Liam Lindsay pinpoints Preston North End's 'reality check' this season as improvement targeted
The PNE defender has been a regular presence at the back once again for Ryan Lowe's team, this season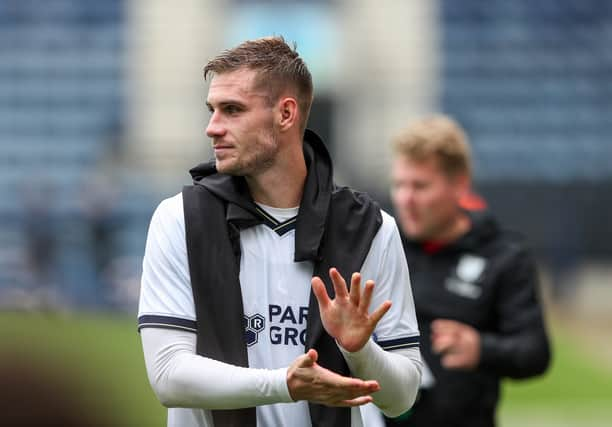 Liam Lindsay starts his Thursday morning with pre-match press conference duty at Euxton - accompanied by a caramel cortado from Starbucks to wake him up. It's a truly tiny drink for a big lad like Lindsay, but the caffeine will get him ready for the day's work. First on the agenda, though, is discussing Preston North End's recent drop off in form.
Ryan Lowe's men head into this weekend's home clash with Coventry City sitting ninth in the table, but without a win in their last seven matches. PNE are desperate to get back to winning ways, having come back down to earth after picking up six straight victories in the early part of the season.
Lindsay has been in the heart of defence all campaign long, partnered mostly by Jordan Storey and Andrew Hughes - though Greg Cunningham stepped in for the latter last month. North End's number six speaks openly about recent results, recognising the need to stay level headed and completely focused on the task in hand.
"We are alright," he said. "Results haven't been good of late, but we're fine. You've got to look at it as positively as you can, because with this league you just never know what's going to happen. We are looking forward on Saturday, to hopefully get three points. I don't know if you can put your finger on it; maybe we had that bit of luck in the first seven games and we're not getting decisions now. But, you make your own luck, so we cannot rely on officials too much. We just need to keep going."
Recent results have seen North End edged out 1-0 at Hull City and stung late in the day by Southampton, who scored a 96th minute equaliser in the 2-2 draw at Deepdale. Lindsay was inches away from heading clear the corner which led to the Saints' winner, so the result was a bitter pill to swallow. He did, though, try to take as many positives away from that night as he could.
"I think it was our best performance of the season," said Lindsay. "I think our game plan just worked a treat. We fought one-v-one all over the pitch and it just kind of clicked. So, yeah, it was a hard one to take, especially in the last minute. All you can do is pick your head up really, but it was tough to take. Usually I do (clear those) but it just didn't quite happen and it was a bit of a scramble. In the last minute, everyone just wants to head it and it just caused a bit of carnage. They were filled with Premier League players and that's who you want to play against. Keeping some of those quiet is obviously good for the old confidence."
The intensity from Lowe's men that night was extremely impressive, with PNE going toe-to-toe with the relegated side, turning the game on its head and coming seconds away from picking up all three points. Lindsay knows that is when North End are performing at their best, but admits it was naturally challenging to replicate that three days later at Hull City - where one change to the team was made.
"Yeah, of course it is," said Lindsay. "Especially with how we drew... it felt like a lost to be honest. It's hard, but you need to do it. I don't think anybody would like to come to Deepdale to be honest and that's how we want to make it. We just need to keep putting in performances like that and they definitely won't want to. It's just (about) experience (now) and the team is full of it. Everyone has kind of been playing with each other for a while as well, so you can't get too high or too low - just stay on that even peg."
It has been a gruelling period for North End on the pitch, with four defeats and three draws in the last seven games. Preston went to table topping Ipswich Town and Leicester City and returned home empty handed, but neither of those encounters are viewed as the toughest in the eyes of Lindsay.
"I think the West Brom game," he said. "First half was good against Leicester. I know we kind of sat in, but I think everyone does against Leicester. I think West Brom was tough. I don't really know, but they just kind of came out and everything clicked for them. It sometimes just doesn't happen and things do happen for them. It's frustrating, but that's football and the Championship especially. I think it was the Championship to a tee - we were flying and then just get beat like that. I think it was a bit of a reality check for us, but we just need to forget about that and now it's on to Coventry."