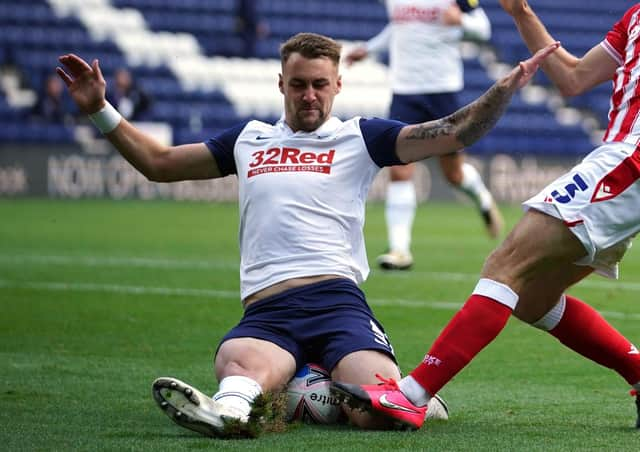 Preston North End's Patrick Bauer
Championship clubs can name nine players on the bench and use five of them from this weekend onwards for the rest of the season.
It is a return to the rule which covered the restart matches last season.
Neil sees the extra subs as a player welfare issue rather than giving managers more tactical choices.
He reasons that tactical changes wouldn't necessitate five subs, the extra couple more a case of being able to freshen a side up.
"I thought not starting the season with this rule was a poor decision from the get-go," said Neil.
"In football we have seen a massive increase in the volume of injuries.
"Thankfully common sense has prevailed here and it is welcomed.
"I will always have nine on the bench, we've got young lads if some of the senior players aren't fit.
"I have never ever since being a manager left a slot unfilled on the bench.
"Some managers have done it to try and prove a point to whoever but I think that is absolutely unnecessary.
"Will I make all five subs in a game? It depends on the game but you have the option.
"Against Birmingham we had to leave an injured player, Andrew Hughes, on the pitch after he'd torn his hamstring.
"We'd used all three subs by then so I couldn't get him off.
"For me, it is purely about player welfare. The simple fact is we are in unprecedented times in the amount of games we are having to play so close together.
"People will say we should be used to playing midweek football in the Championship but we've never had midweek games week after week like we are doing this season."
Neil will hope to have a couple of injured players back in contention tomorrow.
Patrick Bauer missed the two games before the break with a knee injury, while Ben Davies hasn't played for a month due to an ankle issue.
Ben Pearson has been out for the same time as Davies with a groin problem.
Daniel Johnson is back from international duty with Jamaica.
He checked in at Euxton on Wednesday following a flight back from Saudi Arabia.
Johnson underwent a Covid-19 test which is routine for players coming back from international football.
Alan Browne, who tested positive for Covid while with the Republic of Ireland, is continuing to self-isolate.
Neil reported that aside from losing a sense of smell, Browne was in good spirits.