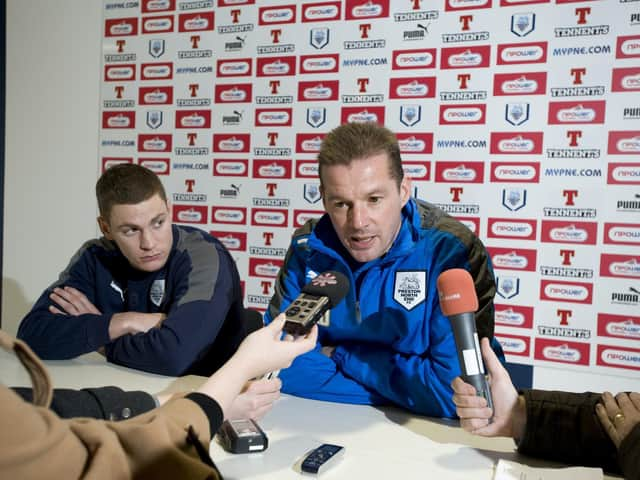 Paul Coutts (left) sits alongside his manger Graham Westley (right) during their time at Preston.
Westley was in charge of PNE for an ill-fated 13 months from January 2012, seeing the club edge closer towards the wrong end of the League One table.
Many stories have come out about Westley's tenure at Deepdale, and his former captain Coutts has one of his own.
The 31-year-old, who is currently the Fleetwood Town captain, told the Lancashire Post: "Every day he'd have this group confrontation with someone and he'd never come out on top.
"One of the days, Craig Morgan and I were in the gym and we'd just done an hour in the gym with the physio.
"The lads started filtering in from the grass session and Westley said, 'We've got a gym session now, you guys can get involved'.
"Morgs said he couldn't do another hour, he'd smashed an hour out already.
"They were going back and forth a bit saying, 'You are' and, 'I'm not'.
"The next thing, Westley's offered Craig that if he can beat him in a wrestle, he doesn't have to do it.
"They started having a full-blown wrestle in the gym!
"Morgs is just man-handling him, he's 6ft 4in, an absolute unit and he's throwing him around the gym, slamming him.
"I'm stood there thinking, 'That's the manager of the football club fighting with his centre-half over whether they're doing a gym session'.
"Morgs got the better of him and didn't have to do the upper body session and at that point I think I'd seen it all."
North End were initially tipped for promotion when they fell into the third tier, with Phil Brown in charge then, but could not mount a promotion push.
With Westley at the helm, Coutts likened it more to a travelling show than a professional football club.
He said: "All the stories you hear, they're true. I think they're great stories for if you ever wanted to do after-dinner speaking.
"Every day there was something that at the time was insane going on but was so bad for a professional environment, at a club with the history and tradition as Preston. It was just a circus.
"You realise when you get older how far away from success we were. I found him actually quite likeable, but hilarious. It was unbelievable."