Former captain Oshor Williams on flamboyant Frank Worthington and how John McGrath persuaded him to join Preston North End
Oshor Williams was the proud captain of PNE when Frank Worthington – who sadly passed away last week – helped lead them to promotion from the old Fourth Division. Williams, the Professional Footballers' Association assistant director of education, recalls Worthington scoring one of the finest goals ever scored at Deepdale during that memorable 1986-87 campaign...
Sunday, 28th March 2021, 4:45 pm
Frank Worthington sprinkled stardust on Deepdale and his goal against Wolverhampton Wanderers will live long in the memory of those lucky enough to see it.
Frank played like a superstar and looked like a film star.
He brought style, glamour, and an incredible ability to Deepdale, helping John McGrath revive the famous old club.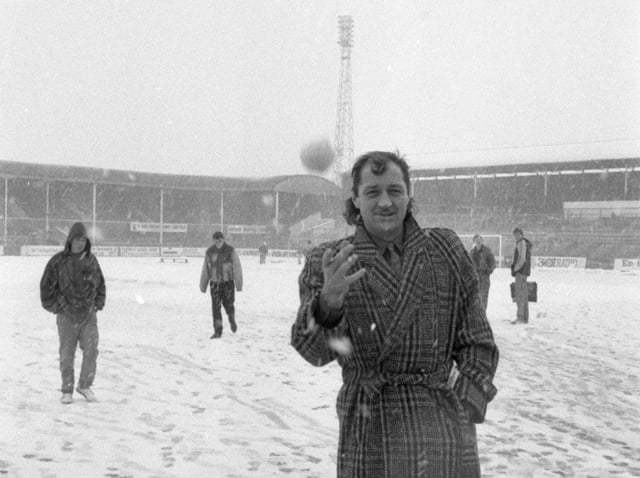 Frank Worthington – snowball in hand – after a game at Deepdale was postponed in March 1987
Whatever you wore, and however you dressed, you always wished that you could look like Frank Worthington.
He could wear the most audacious outfits – pink tracksuit bottoms to a high-collar Elvis Presley-style shirt with a bootlace tie – and still look like the sharpest man in the room.
It wasn't just his style though – he had an incredible aura about him, like all the truly special players.
On the pitch he could turn the ordinary into the extraordinary.
Oshor Williams in action for PNE
Off the pitch, with his dust-dry sense of humour, the friendly Yorkshireman had time for everybody.
Frank was an easy-going and laid-back guy, but his warm personality drew him to so many people.
I can remember him offering advice to apprentices, tips on how to improve their passing, or just a kind word of encouragement here and there.
Of course, he was revered throughout football for his glamour, skill and artistry, during a long career that stretched from 1966 to 1991.
It was a travesty he only won a handful of England caps.
And when Frank signed for Preston in the 100mph, hurly burly world of the old Fourth Division, defenders would try anything to stop him.
But I know Frank Worthington loved every second of it.
He embraced Preston North End and the fans embraced him.
There's a photograph taken by the Lancashire Evening Post of Frank playfully throwing a snowball at a photographer on the Deepdale pitch.
You could see the joy in Frank's face, and it summed up his sense of fun and enjoyment of life.
I don't know how North End persuaded him to come to Deepdale – it was a bit like Glenn Hoddle signing for
Rochdale in the autumn of his career.
However, it was certainly one of the transfer coups of the season and Frank lit up Deepdale on his home debut against Wolves.
People often talk about Frank's spectacular goal for Bolton Wanderers against Ipswich in 1979, but his strike against Wolves was just as special.
I missed the Wolves game through injury, so I watched the action alongside the manager John McGrath in the Deepdale dugout.
Preston were pressing hard for an equaliser and Bob McNeil swung a free-kick into the Wolves box.
It was frenetic, the penalty area packed with bodies, and the Wolves defence closed ranks. Suddenly, it fell to Frank in front of the Kop, who cushioned the ball on his thigh.
Then, with absolute calm and finesse, he executed the most exquisite side-foot volley. For a moment, it felt like Frank had frozen time as his brilliant lob floated towards the target.
But Frank knew it was a goal as soon as it had left his foot. He began the celebrations before it had even crossed the line, charging up the pitch, waving his arms to the home support.
Most players would have snatched at such a chance, but Frank Worthington had the scope of imagination, to visualise an opportunity that most players could never conceive.
That was a golden season, when the stars aligned at Deepdale and Preston won promotion.
A few days after John McGrath was appointed at Preston, I got a call from him.
He said: 'Listen kid, if you join Preston North End it will be the football adventure of your life.' I laughed and told him, 'PNE finished 91st in the Football League, had to apply for re-election and were broke. Even the floodlights have been condemned'.
There was a silence and John replied, 'Just wait until you hear the bad points'.
But John could sell you a vision and when he told me that Preston would win promotion and the crowds would come flocking back, he knew that we would make it happen.
We were a team of journeymen – Frank, Sam Allarydce, John Thomas, Gary Brazil, Bob Atkins and Ronnie Hildersley, but the chemistry between the players was superb.
It was the most enjoyable 12 months of my career and it was so fitting that Frank's great friend Les Chapman scored the winning goal when North End clinched promotion at Leyton Orient on a warm Spring day in London.
There's a generation of Preston supporters who began supporting them that season, many who are still there today.
And I'm sure they'll all remember the brief but brilliant contribution of the incomparable Frank Worthington.
Thanks for reading. If you value what we do and are able to support us, a digital subscription is just £1 per month for the first two months. Try us today by clicking here