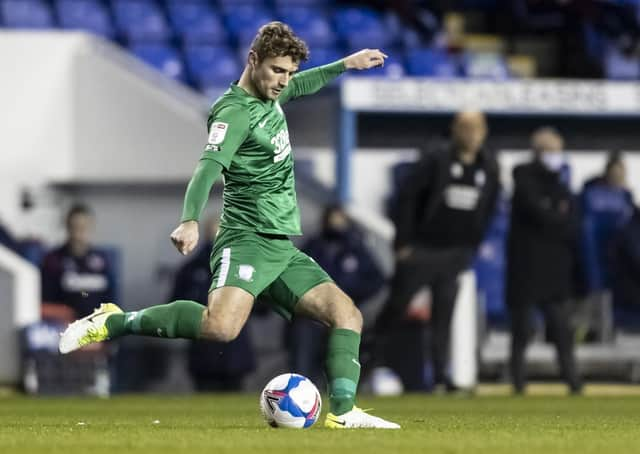 Preston North End's Ryan Ledson
Not that there is much to do during this second lockdown but it is a chance to put the feet up and get ready for a demanding and very important few weeks.
Between next Saturday and January 2, North End will play 12 Championship matches.
It is Saturday/midweek all the way through to just before Christmas.
The first break of any note is a clear week before the home game against Bristol City on December 19 and the Boxing Day trip to Derby.
Unfortunately, those dozen games through until the turn of the year will be behind closed doors, as will others which follow.
Will we have a full year without crowds? It is starting to look that way.
I digress. Back to the run of games which stretch out in front of North End during the reminder of November, all of December and into 2021 – hands up who can't wait to see the back of 2020.
There are 36 points up for grabs and those games take us through to the half-way point of the season.
Come through that little lot with a healthy points total and you'll be in decent shape to face the second-half.
The next two matches for North End really are big ones in context of how the season has panned out to date.
Both are at home, with Sheffield Wednesday here next weekend, followed by Blackburn paying a visit a week on Tuesday.
We've debated North End's Deepdale ills until the cows come home, we know that so far they've been damn awful on home soil.
That has to change, no ifs, buts and maybes.
Wednesday will arrive with new manager Tony Pulis in tow having binned off Garry Monk last week.
Then it's Blackburn, a local derby to be played in front of zero paying customers.
Preston need to take something out of both of those games, firstly to reverse the home results trend and to ensure not too much of a gap opens up between them and those at the upper end.
Sixth-placed Swansea currently enjoy a six-point advantage over North End.
It's the same going the other way, with Alex Neil's men six better off than Wycombe who occupy 22nd position.
The two home, two away pattern is a feature until Christmas.
On November 28, PNE go to Watford, then it's on to Bournemouth on the Tuesday night.
Both came down from the Premier League in July and have designs on making a quick return under new managers.
The Hornets and the Cherries sit second and fourth respectively, strong starts in their bids to regain top-flight status.
Those two games will be a big test of North End's away form, of which the defeat to Rotherham last week has been the only blip.
Wycombe and then Middlesbrough visit Deepdale on December 5 and 9, Gareth Ainsworth certain to receive a warm welcome when he returns to these parts with the Chairboys.
Boro have Neil Warnock at the helm and the veteran boss has got them well placed just outside the top six.
There follow trips for North End to Luton – scene of June's restart – and Barnsley in the middle of December.
The last game before Christmas is Bristol City at home, a side they face again less than a month later.
Then it's Derby away on Boxing Day, Coventry here on December 29 and Nottingham Forest at home on January 2 – we have the extra day to sleep off the affects of a substantial meal and pint in tier three on New Year's Eve.
There follows a week's break before the third round of the FA Cup.
It's a testing schedule for all Championship clubs and squad depth will come into play I would imagine.
North End have just had three Wednesday night games in a row, QPR away, Millwall at home and Reading at the Madejski Stadium.
With Wednesday matches managers get that extra day after the previous Saturday game to prepare their teams.
But a day is shaved off the build-up to the following match at the weekend.
Three of the four midweek fixtures are on a Tuesday in the next block, the Middlesbrough clash being the exception.
Between now the new year, it will be interesting to see who from the North End squad comes to the fore.
In the first two months of the season, that mantle has been taken by Ryan Ledson.
He's arguably the most improved player of this campaign, the seeds for that sown in the last few games of 2019/20.
It was good to see Emil Riis settle quickly in his first month at Preston and he'll be important to PNE's cause in this busy spell.
The fact the striker hasn't gone away on international duty with Denmark Under-21s, is a blessing, however unfortunate the reason behind it – a mutant form of Covid-19 has been discovered in mink farms in a region of Denmark, meaning stricter travel and quarantine measures.
How deep Neil delves into his squad in the coming weeks will be something to interest the PNE faithful.
Neil has used 22 players to date in Championship games this season.
Tom Bayliss and Josh Earl are yet to play in the league, so they could increase the numbers used at some point.
There's Billy Bodin who has featured only once in the Championship, that on the opening day against Swansea.
Josh Harrop has had just the one league start and two appearances off the bench.
At some stage, Ben Davies and Ben Pearson will be back from injury – Davies probably slightly sooner than Pearson.
It seems an age since they last played but it's actually only four weeks on Sunday.
The nature of the fixture list though, means there have been a lot of games packed into that spell when they have been sidelined.