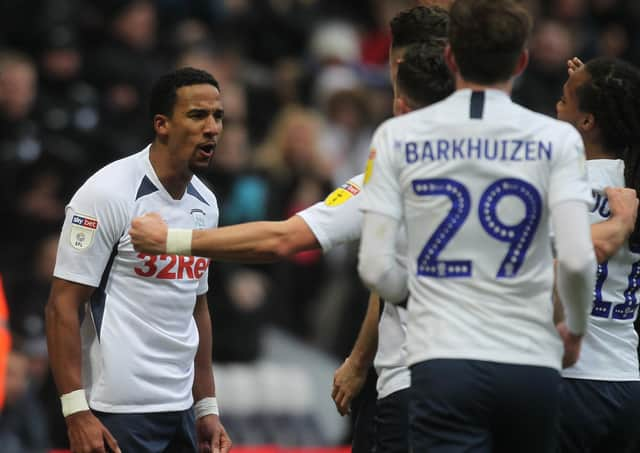 Scott Sinclair celebrates scoring agaisnt Swansea
After the last two Preston North End games at Deepdale there have been conversations about the aftermath of four goals.
Against Charlton three weeks ago, there was Andre Green's knee slide and then Patrick Bauer choosing not to go wild after heading what turned out to be PNE's winner.
Last Saturday when Swansea paid a visit, Scott Sinclair and Rhian Brewster didn't hold back after scoring for their respective clubs.
Let's start with that one, Sinclair scoring a fine solo goal to give North End the lead with his first goal in a Preston shirt.
After seeing the ball hit the net, Sinclair turned to run and celebrate with the PNE supporters in the Invincibles Pavilion.
Previously in his career Sinclair played for Swansea and played a huge part in their promotion to the Premier League.
He scored 27 goals in the 2011/12 season, including a hat-trick in the play-off final at Wembley.
Former Swansea and – briefly – PNE striker Lee Trundle took to Twitter to question Sinclair's decision to celebrate.
I saw nothing wrong with the celebration, Sinclair might have scored in front of the Bill Shankly Kop where the travelling Swansea fans were but the celebration went in another direction.
There was no hint of him celebrating in front of them, off he went as quickly as he had taken the ball through the Swansea defence to share his joy with the Preston fans.
It is more than seven years since Sinclair left South Wales and the manner of his goal clearly saw him wanting to celebrate it.
Prior to signing for North End he had played once in three months for Celtic so there was a release of joy at scoring in such style.
Five minutes later at the other end, Brewster equalised for Swansea.
Again, I took no issue with the Liverpool loanee running off to celebrate and sliding on his knees.
What was unnecessary though, was the teenager then standing up five yards into front of the Town End with his arms stretched out.
Why he saw the need to do that, I don't know.
Brewster had scored, got his side level, done the knee slide and should have left it at that.
PNE fans had no beef with him, he was an opposition player scoring at that end of the ground – no more.
The stretched out arms lacked class. Brewster has a bright future ahead of him and maybe this was just the folly of youth.
Going back to the Charlton game, Green gave the Addicks a fifth-minute lead at the Town End.
With him having had a loan spell with Preston cut short less than three weeks before, the writing was on the wall that he would score.
The lad celebrated with a knee slide – an action which groundsmen the length of the country must hate – but didn't aim it at anyone in particular.
Green was clearly chuffed after a frustrating few months at Deepdale and like Sinclair, was off the mark for his new club.
Post-match on Twitter, he wrote that no offence had been intended to Preston fans and bar the odd grumble, none had been taken.
Later in the same game Bauer chose not to celebrate scoring against Charlton, the club he left last summer to join North End.
It was a personal choice, Bauer taking the view he would be happier not to celebrate scoring against a club he spent four years with.
That is how it should be on such occasions, a personal choice made by the individual player.
Some take the Bauer route, some not.
If a player celebrates against a former club, as long as it's not over-the-top I don't see a problem.
The one which always springs to mind as being too much was Emmanuel Adebayor running the full length of the pitch to celebrate in front of the Arsenal fans after scoring for Manchester City in 2009.
Aiden McGeady found his inner Adebayor when he returned to face PNE with Sunderland in 2017 after a successful loan stay the season before.
It wasn't quite a full length of the pitch job and a photographer's stool didn't end up on the pitch as one had done at the Etihad.
McGeady took it too far on that occasion, especially bearing in mind he scored in front of the Sunderland fans and could have gone off to celebrate with them.
The best goal celebrations are done with your own fans, I love the emotion of a 'limbs' scene as fans and players come together.
In some Premier League games, there almost seems a reluctance to celebrate properly – it's almost too cool for school.
Then the first reaction of some fans is to get the phone out for a quick picture rather than live the moment.
Hopefully the goals keep coming for North End and the celebrations continue.
A few more from the boot of Sinclair like last week's wouldn't go amiss and won't upset anyone!