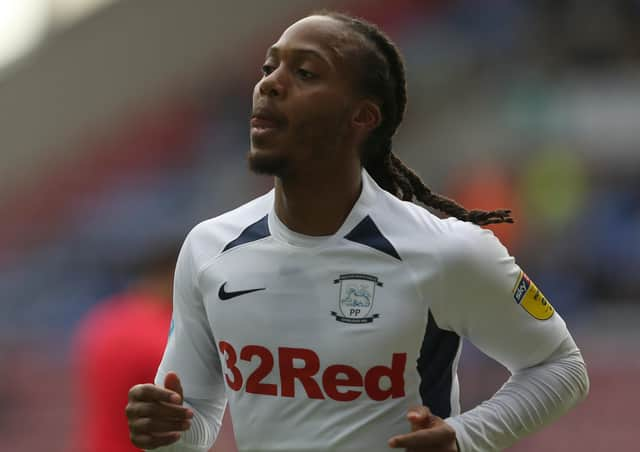 Preston midfielder Daniel Johnson has scored 10 goals this season
Johnson scored his 10th goal of the campaign in the 2-1 win at Wigan on Saturday and also set up Tom Barkhuizen for the opener.
Only once before has he reached double figures of goals in his senior career.
That came in 2014/15 when Johnson netted eight goals for PNE and three when on loan at Oldham before his £50,000 switch to Deepdale.
His 10 goals have come in just 21 games this season, with him also providing five assists.
Neil said: "DJ's whole game is better this season.
"That is not solely down to him moving position although it has contributed.
"It just takes time to get to where you want to be. If you keep working hard and keep wanting to improve, you will get there."
The fact Johnson is North End's joint top scorer with Barkhuizen is pretty decent going when you consider he missed nine matches with a knee injury and did not play in the opening-day fixture.
In the four games since his return from injury, PNE have won three and drawn once.
Said Neil: "DJ has been a key player for us, we do miss him when he's not there.
"He can do a bit of everything, he's got good legs so can get up and support.
"If you think back to the game on Saturday at Wigan, he made the first goal and scored the second.
"With the first it was a great ball from Ben Pearson to put him in but DJ then picked the right pass right across the face of the goal.
"His creativity and quality at the top end of the pitch is something we missed when he wasn't playing."
Neil thinks Johnson has helped fill the void left by Callum Robinson in terms of goals.
"When we lost Callum we needed someone to do what DJ is now doing," said Neil.
"We needed someone to step up to the plate and score goals – DJ has taken that challenge up, he's done a great job for us.
"We have always shared the goals around the front four, with midfielders chipping in.
"This season the midfield players and wide players in particular have had a heavy burden in terms of goals.
"We need to get a couple of other areas scoring more goals to help them out."
North End are back in action tomorrow night when they face Stoke at the bet365 Stadium (8pm).
Meanwhile, PNE fans have snapped-up the full allocation of tickets for the visit to Fulham on February 29.
The 1,964 tickets sold out in just a week, the last few seats with a restricted view sold yesterday morning.