Big Interview: part one, former Preston North End defender Liam Chilvers
​He might not quite be on a par in terms of reverence as the "Preston Plumber" – but former North End defender Liam Chilvers admits he still gets recognised on a regular basis by Lilywhites supporters when he turns up for work.
Watch more of our videos on Shots! 
and live on Freeview channel 276
Visit Shots! now
There will not be too many parallels drawn between the footballing careers of central defender Chilvers and PNE's greatest ever player, the late Sir Tom Finney.
But one thing the pair do have in common is they both were – and are – adept with their hands as well as their feet.
Finney famously combined his wing wizardry for England and North End during the late 1940s and early 1950s by running a plumbing business in Preston.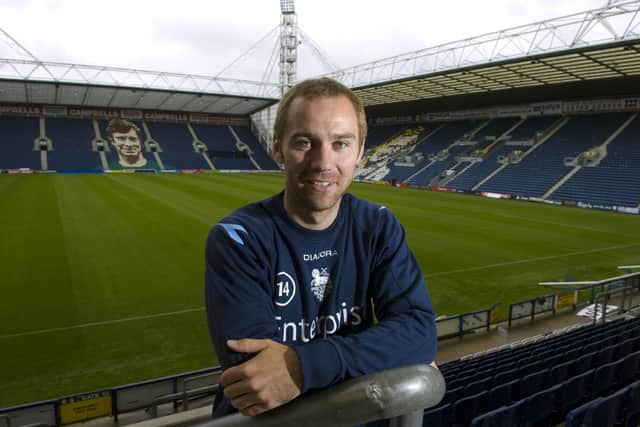 It was common for many North End supporters to watch Finney wreak havoc with the very best defences in the country on a Saturday afternoon at Deepdale and then welcome him into their home on the Monday morning to fix a leaky tap.
After retiring from playing, Chilvers – who represented North End from 2006 to 2010 – cultivated a new career by becoming a tradesman.
Self-employed, Chilvers is certainly versatile – turning his hand to such tasks as painting and decorating, tiling and is often commandeered by letting agents to carry out maintenance work on rental properties.
Still living in close proximity to his former club – in the village of Rufford – the "Preston Plasterer" often gets accosted by clients who remember his days as a Deepdale regular.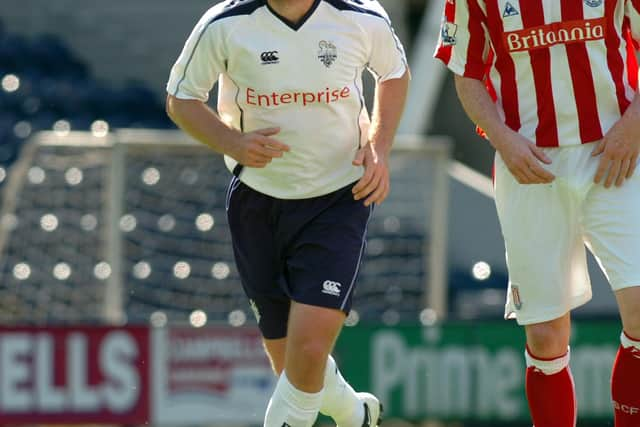 Chilvers said: "I have had a few occasions where I have been working with other people on jobs, they have come over to me and said, 'The owner of the house thinks he recognises you?'
"Then eventually he will come over and say, 'You used to play for Preston didn't you? I knew I recognised you?'
"I live in Rufford which is just on the outskirts of Preston so I come across quite a few North End supporters.
"When that does happen, it's great. It's nice when somebody comes up to you and tells you that they remember when you used to play.
"I think as time passes by, people remember you as a better player than what you actually were!
"A few people have said, "You were a great player' – but I reply by saying. 'Oh you probably used to boo me!'
Chilvers' times at Preston was arguably the height of his career. Released by Arsenal without being handed a first-team opportunity, the defender had begun to make a name for himself with Colchester United in League One when PNE boss Paul Simpson made him one of his first signings in the summer of 2006.
That first season saw Chilvers become an integral part of Simpson's defence – playing 45 games – as PNE flirted with promotion to the Premier League.
They led the table at one point before eventually finishing seventh – one point outside of the play-offs.
"We were flying up until Christmas and then I think we needed to bring in a couple of experienced players in January, but we didn't and we ended up missing out on the play-offs by one point," said Chilvers.
"From my point of view, I only missed one game all season through injury so I was delighted with the way my first season in the Championship went.
"But obviously disappointed how the season ultimately turned out because, although you never say it out loud at the time, in your own mind you know how good the squad is and whether it's going to be good enough.
"In our squad at the time, we had some really good players – experienced players like Graham Alexander, Callum Davidson, Paul McKenna, Danny Dichio.
"We had younger players like David Nugent who scored a lot of goals for us that season.
"I think amongst ourselves there was a confidence that we could do really well.
"We had picked up some big wins away and had also been winning at home.
"I couldn't really say where it all went wrong but towards the end, we just couldn't get a win from anywhere.
"Typically, we beat Birmingham, who I think had already been promoted, on the last day of the season but other results did not go our way and we ended up missing out on the play-offs.
"I think that has to be my biggest disappointment. The way that first season ended up panning out."
Next week: Read part two of the Liam Chilvers story.