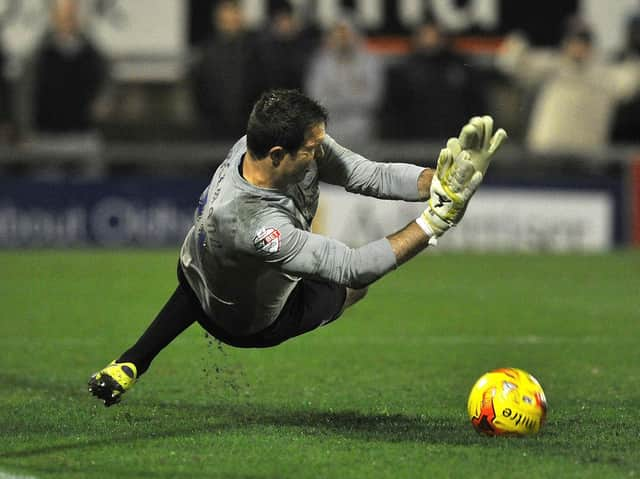 Thorsten Stuckmann doing what he does best - saving penalties
Bundesliga matches have provided some element of sporting normality, the chance to watch live games albeit in eerily quiet stadiums.
Such settings will be something we have to get used to on these shores when the Championship and Premier League return in a couple of weeks.
Former Preston North End goalkeeper Thorsten Stuckmann was only a phone call away when it came to picking his brains on the German game.
Thorsten Stuckmann during his time with North End
'Stucki' was a hugely popular figure – and a physically huge man at 6ft 6in – in a three-and-a-half year stay at Deepdale.
He came to North End from German football in 2011 and only returned to his home country six years later – spells at Doncaster, Patrick Thistle and Chesterfield followed that at PNE.
Now retired from playing because of an arm injury, Stuckmann still has a strong connection with football.
He works for the German players' association and the Covid-19 pandemic has meant he has been a busy man.
Players right the way through the German leagues needed help and guidance when the game there was shut down.
As the economic fallout continues from no games and then games without fans, there is much work yet for Stuckmann as the sport attempts to get back on its feet.
Home for Stuckmann is now just outside the city of Cologne.
"It's a house we've been renovating and we've just about settled in now," Stuckmann told the Lancashire Post.
"I'm working for the German PFA as a player liaison.
"These last few months have been busy, talking about wage cuts and in some leagues whether the season would finish. Can some clubs even survive this?
"It was a relief when the Bundesliga got started again, just to see the boys back out on the pitch was a big thing."
Preston were one of eight clubs Stuckmann played for in his career.
It was a career which started and finished in Germany, with Fortuna Dusseldorf his last port of call.
Fortuna provided him with the opportunity to go out on a winning note, although it was injury which forced the decision.
Stuckmann said: "After coming back to Germany I signed for Dusseldorf's reserve team.
"They wanted some experience to go with the Under-23s players.
"That was in October 2017 and come January I was promoted to the first-team squad.
"I played some games and we were promoted from Bundesliga II.
"Unfortunately towards the end of that season I got an injury and ended up having to retire.
"I damaged the biceps tendon in my right arm and had to have surgery.
"Afterwards I could only lift 5kg without pain – some people might say I couldn't lift much more before that!
"It meant I couldn't go back to playing and training, the surgeon knew it would pop again if I did.
"I'm 39 now and had a good career, so it probably wasn't too difficult to accept."
Stuckmann first came to Preston in July 2011 and played in a pre-season friendly against Morecambe.
When PNE signed Iain Turner to be their No.1 that summer, Stuckann returned home to Germany.
But the call came for him to return that November, kicking off a stay which lasted until after Wembley 2015.
"When I came back, I signed a couple of one-month contracts and then I got a proper one-and-a-half year deal," said Stuckmann.
"I stayed nearly four years so I can't have been too bad. I really enjoyed my time at Preston and we got back to the Championship which had always been the target.
"For the second part of the promotion season I was on the bench for the league games.
"I played in the FA Cup though, and my last start was against Manchester United at Deepdale.
"Things ended on a high note at Wembley when we beat Swindon in the play-off final. Mind you, Colchester three weeks earlier was bad.
"We recovered well from not getting automatic promotion.
"Simon Grayson got us organised for the play-offs and the final went just how we had planned.
"We knew that Swindon had popped the ball around that year and that is how they would try and play.
"Simon told us to play the game and not the occasion, I think Swindon played the occasion.
"We knew exactly what we wanted to do and it all worked out perfectly.