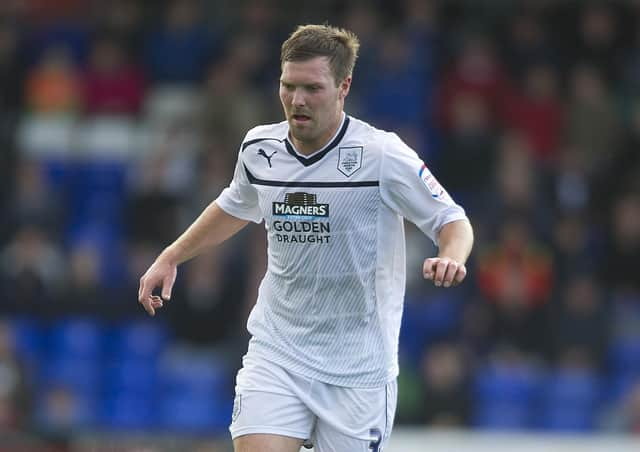 Preston North End's Scott Laird
It was a measure of the electric start that Scott Laird had made to his Preston North End career that ithad taken PNE fans just a few weeks to create a song which paid homage to their new left-back.
It's doubtful that former Beatle George Harrison's hit record as a single artist "My Sweet Lord" had ever been heard as a chant at a football ground before.
But that all changed as soon as Laird pulled on the famous Lilywhites jersey after arriving at Deepdale in the summer of 2012 – signed by new boss Graham Westley – and began to produce some scintillating performances at the start of the new season.
Scott Laird is treated for a serious injury during Preston North End clash against Notts County at Deepdale in 2012
"My Sweet Laird" was rather apt for the marauding, attacking full-back who was both a goalscorer and assister for the team – utilising that 'sweet' left peg of his.
Undoubtedly, he was North End's stand-out performer in that early part of the 2012-13 season.
With four goals to his name, Laird was on the cusp of an international call-up with Scotland – and was well on the way to attaining cult hero status among supporters.
Unfortunately, his career changed for good one fateful Tuesday evening at Deepdale when North End entertained Notts County.
With the scores level at 0-0 and North End pushing forward for a winner, Laird was on the receiving end of a tackle by Jamal Campbell-Ryce in the 90th minute.
The challenge left Laird with a badly broken leg and resulted in Campbell-Ryce being shown the red card.
The injury sidelined him for the rest of the campaign and although he went on to make a full recovery, by his own admission, he was never the same player as the one which dazzled Deepdale in those early games.
The 32-year-old is philosophical about what might have been had he not suffered such a devastating injury at the peak of his career – accepting that injuries are part and parcel of being a footballer.
And he certainly holds no ill feeling towards Campbell-Ryce , who was apologetic and remorseful in the aftermath of the incident.
"I lost that half-a-yard of pace after the injury," said Laird, who was aged 24at the time.
"I don't think I ever reached the heights I did before I got injured. I got near to it but ultimately I was never the same player really.
"It is a horrible thing, but I lost that bit of pace I had which is massively important in the modern game, especially for a full-back.
"I had that injection of pace which helped me whether I was defending or attacking.
"That little change of speed helped me stay with quick wingers or helped me get some space in the final third when I was attacking.
" Ultimately I lost that and it's a real shame.
"It is a massive regret and I hate to have regrets but I suppose you can't really call it a a regret because it wasn't my fault.
"It's not something I can change, it happened and these things are part and parcel of football.
"But I didn't come back the same player that I was and I do look back at my career and think what could have happened if I hadn't have got that injury.
"I really felt strong and was getting better and better with every game.
"I am thankful for what I managed to do in my career.
"I have played nearly 500 games and when I think back to when I was a kid, it was my dream to become a professional footballer and I managed to achieve that.
"But I know I probably could have played in the Championship for many years and who knows maybe snuck into the Premier League.
"We will never know what would have happened without the injury."
Laird's injury would also have an enormous effect on Westley's reign as Preston boss. Having worked under the manager at Stevenage the previous four years, the defender jumped at the chance of following him when he took charge at Deepdale.
The early signs looked good as North End hovered around the play-offs in League One.
However, Laird's broken leg coincided with an injury suffered by fellow full-back Keith Keane in the same game.
The absence of the influential pair appeared to upset the balance of the team and North End went into freefall, ultimately ending in Westley's removal as manager in February 2013.
"I think the game before the Notts County game, we were 1-0 up against Brentford at Deepdale and at that time we were in the play-offs," said Laird.
"I think Brentford scored a late goal and that meant we just dropped outside the top six.
"After that, myself and Keano then got injured in the Notts County game and then what happened after that happened.
"I think we only won one more game from November to January and that culminated in Graham Westley's departure. I am not saying that poor run was a result of myself and Keano getting injured but it affected the team and it was no coincidence that things tailed-off for us after that."
Westley's time as manager at Preston was certainly eventful.
An eccentric figure, his 13 months in charge certainly court plenty of opinion among fans – even to this day.
Having enjoyed success working under Westley at Stevenage when the club rose from non-league to League One in successive seasons, as well as appearing at Wembley in the final of the FA Trophy, Laird has nothing but praise for his former manager.
"I have a huge amount of respect for him as a manager and as a bloke," said Laird, who is the current assistant player-manager at Weston-super-Mare.
"Myself and Graham still speak regularly to each other to this day.
"He's the main reason for what I achieved in the game and the level I reached as a player before I broke my leg.
"I totally understand why he may rub some people up the wrong way and why they may not like him.
"He is marmite. I get that and I am sure he gets that too.
"But he was very successful with his lower league sides and obviously what we did at Stevenage.
"He just gave you that belief. He made you believe that you could beat anybody on the day.
"At Stevenage, we reached the fifth round of the FA Cup twice and played both Newcastle and Tottenham respectively.
"He just made us believe that we could beat them, that we were better players.
"Obviously we weren't because we were League One, League Two players and they were Premier League players.
"But he gave us that belief we could win and we ended up beating Newcastle and taking Tottenham to a replay.
"Graham Westley was a massive part of that.
"Yes we worked long hours, nine to 5pm but everybody else does that.
"We were privileged to do something we love to do, so what did it matter that we worked an extra couple of hours?
"It brought us success at Stevenage and we were doing well in the first half of that season at Preston until myself and Keano got injured.
"It's all what-ifs I suppose but I have great respect for Graham Westley."