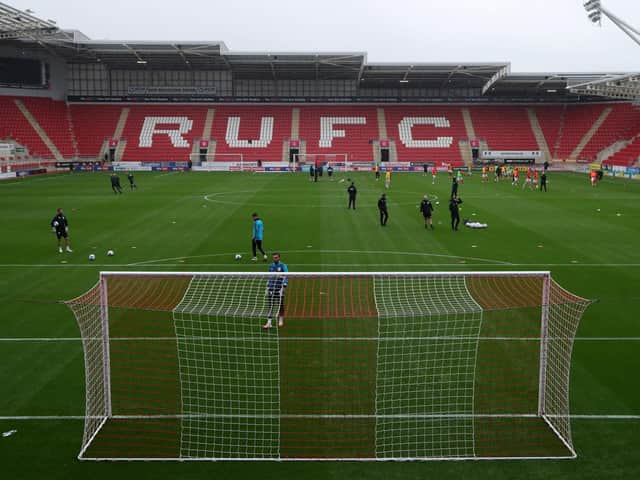 Rotherham's AESSAL New York Stadium.
We will have all the build up and action right here throughout the afternoon so make sure to refresh the page (F5) so you don't miss a thing!
Rotherham vs PNE
Last updated: Saturday, 07 November, 2020, 15:12
Full Time: Rotherham 2-1 PNE
Rudd, Fisher, Huntington, Storey, Rafferty, Lesdon, Johnson, Sinclair, Browne, Potts, Riis.
Rotherham will be hoping to win to set a bit of early distance between themselves and the relegation zone.
A win for PNE could see them up to ninth but with no points at home away games are very important at the moment.
Follow us on Twitter - @LEP_football
Potts a go-to man in away games
Brad Potts has become one of Preston's go-to players in away game this season and Alex Neil believes he can be even more of an influence.
Potts scored in North End's 3-0 victory over Reading on Wednesday night, steaming into the box in stoppage time to finish off a counter-attack.
North End manager Alex Neil said: "Brad is suited to how we play away.
"He has unbelievable legs in terms of hitting the box from midfield, on the counter-attack or in transition, he is a big, powerful runner."
Read the full story here.
Can the streak continue?
PNE have won four away games in a row in the league, beating league leaders Reading on Wednesday.
This isn't the first time this has happened and you don't have to cast your mind back too far to remember an even better record.
Alex Neil's men won six in a row back in 18/19 so this squad is capable of going not one better but two.
Even recent encounters
The last 10 times the two sides have met, there have been six draws.
In the other four games, both sides have won two.
Team News
PNE Starting XI: Rudd, Fisher, Huntington, Storey, Rafferty, Lesdon, Johnson, Sinclair, Browne, Potts, Riis.
PNE Subs: Ripley, Earl, Harrop, Gallagher, Stockley, Maguire, Barkhuizen.
No changes
The rewards for those involved in the midweek beating of the league leaders Reading is for all to keep their places.
It's the same starting lineup and subs bench for PNE.
A lack of home comforts
Rotherham have lost six of their last home games in the Championship, beating only Sheffield Wednesday 3-0 in that time.
They also picked up a point from a draw across those eight games but it's a record PNE could look to worsen today.
Not long to go...
Both sides will be making final preparations before the game as we await the two teams coming out of the tunnel.