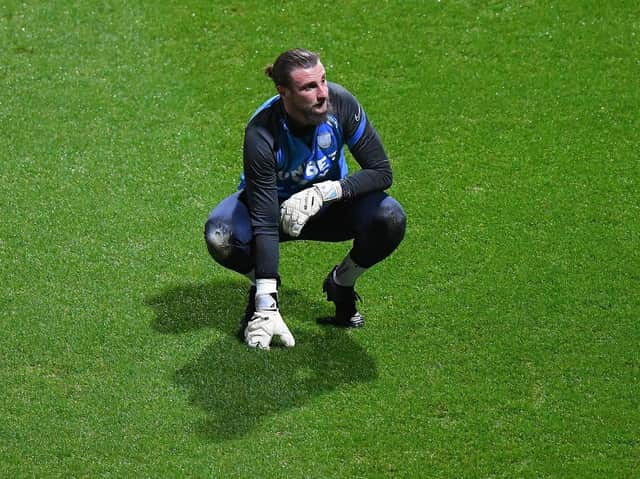 Declan Rudd ahead of the win over Bristol City.
Daniel Johnson's first half penalty proved to be the difference in the tie.
Here are four talking points from the game...
After two poor performances since leaving PR1, North End picked up where they left off with the fine home win against Middlesbrough.
They completely bossed the first half and had their chances in the second as their defence came more to the fore.
The win over the Robins made it back to back home wins but also back to back clean sheets for Alex Neil's side.
Hopefully, that's a sign that the poor home form is over and results at Deepdale can begin to be relied upon once again.
If Preston are to start moving up the table, especially with any sort of pace, success in PR1 will likely have to be a cornerstone to it.
Those two wins though can hopefully form a foundation to build from now.
Without wanting to poke at the unfortunate losers on Friday night, it is a talking point that PNE are simply Bristol City's bogey team.
That's 15 games now without being beaten against the Robins and one defeat in 14 at Deepdale for PNE.
It's not unheard of in football, the Lilywhites having their similar curse against Brentford which seems to have been dispelled recently.
But in the same way that North End fans would discount six points at the start of the season at the expense of the Bees, they will surely add six on for the Robins' generosity.
Football is a funny game but it goes in North End's favour against the side from Bristol.
Deserving of a point of his own, Declan Rudd was excellent against Bristol City.
Though he was excellent he was also largely just his usual self too.
He's become a reliable and dependable man between the posts for PNE.
He isn't always called upon, even if Preston lose, but when he is he comes up with the goods.
When North End have been out of form and conceding goals, that hasn't been down to their 'keeper, nor can he do much about the goals he's been conceding.
But when presented with a chance to make a save, he does.
A huge area of improvement has been his command of the box and how assured he is when claiming crosses, very rarely spilling them and often easing the pressure.
4. Six points off the play-offs.
Is it getting carried away?
I always prefer to look up rather than down, and with the way the Championship is, you just never know.
Every team will go on runs, good and bad, before the season is over.
Alex Neil will be limited, in that he will not be able to play his best team again this season, with Patrick Bauer mssing long term, but this side are capable of working their way up the table.
It's better to keep tabs on those sort of landmarks rather than looking behind at how many points separate them from the drop.
If the home form begins to match the away form we've already seen this season, anything is possible.