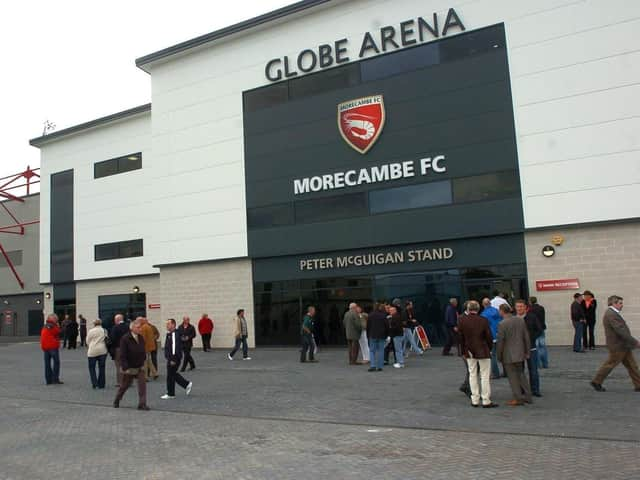 Morecambe FC has announced options for season ticket holders in the wake of the curtailed campaign
The coronavirus pandemic meant matches were suspended in mid-March with the Shrimps still having nine games of the season remaining.
A subsequent vote among clubs saw the season curtailed, meaning Morecambe had to find a way to compensate season ticket holders for the five scheduled home fixtures which were cancelled; the matches with Plymouth Argyle, Stevenage, Crawley Town, Swindon Town and Scunthorpe United.
As a result, they have come up with four options for those season ticket holders affected.
The first is to donate the unused value of their 2019/20 season ticket to the club to help mitigate the costs of Covid-19 and to aid with planning for next season.
Alternatively, they can request a credit of 20 per cent to be applied to the purchase of a season ticket for the 2020/21 campaign.
Option number three is a voucher worth 20 per cent of the season ticket cost to be spent in the club shop.
The final option is a refund to the value of 20 per cent on the season ticket for 2019/20.
No action is required by season ticket holders wishing to donate the unused value of their season ticket back to the club.
However, those supporters wishing to take up one of the other three options should email [email protected] or phone 01524 411797 and select option 0. The closing date to apply for those three options is 5pm on Friday, July 10.
A club statement said: "Many supporters have already been in touch with the club to indicate they would rather any refund remain with the club to help the club through these challenging times.
"The club is immensely grateful for these incredibly kind gestures and would like to thank any supporters that feel able to do the same over the coming days."