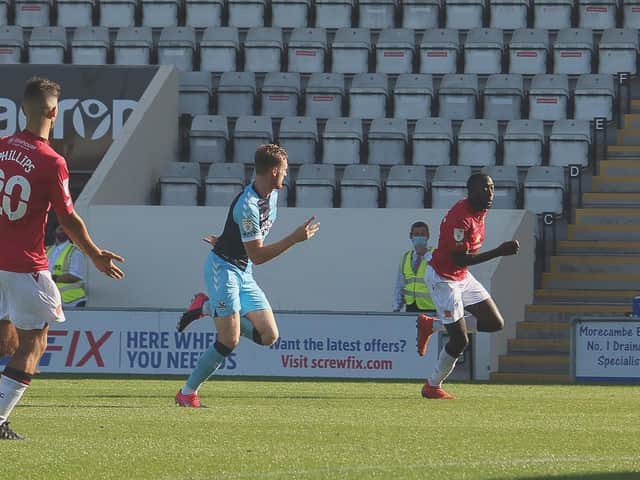 Morecambe's matches have been played against the backdrop of empty seats
An online petition calling for fans to be allowed to watch football at all levels has been backed by a number of top level clubs and has attracted more than 100,000 signatures; the threshold at which it can be considered for debate in Parliament.
A number of trial events with reduced attendances had previously been held but, following a spike in Covid-19 cases, the planned return of fans earlier this month was shelved.
In Morecambe's case, their supporters haven't watched a home game since the 1-1 draw against Crewe Alexandra at the end of February.
In a statement issued on Tuesday, Taylor said: "Football, our national game, is in a precarious situation right now and pragmatic, measured action is required before football clubs in numerous towns and cities throughout Great Britain fall into the abyss.
"These clubs are the beating heart of their community, going to the match a brief respite and a pressure release valve to protect people from some of the frightening realities we face right now.
"Supporters of the 'home' club could return to grounds and watch their team in a Covid-19 safe environment if the basic rules and protocols are followed.
"We, at Morecambe FC, have developed excellent Covid-19 policies and procedures covering all aspects, ranging from the initial non-contact training for players right through to being able, once again, to admit spectators to the Mazuma Stadium. Football needs action and it needs it now!"
Also making their voices heard have been the Premier League, the EFL, the FA and the women's professional game.
They have published an open letter outlining their commitment to the safe return of supporters to matches, as early as possible.
The letter read: "The Premier League, EFL, The FA, Women's Super League and Women's Championship want to assure all fans that together we are fully committed to your safe return to football grounds as soon as possible.
"The health of the nation remains our overriding priority, and for many months we have been working with experts to make our grounds as safe as, if not safer than, any other public activity currently allowed. We are consulting with the Football Supporters' Association to keep supporters updated every step of the way.
"We know attendance at matches can play a positive role in people's lives during these challenging times. And the past few months have shown how clubs can still feel the support of their fans.
"Even when you have been unable to get together, you and your clubs have found ways to make a difference in your communities, with clubs delivering food parcels, taking part in phone calls and online conversations with fans, the elderly and vulnerable and moving services and programmes online to make a difference in unprecedented and challenging circumstances.
"But we all know football is not the same without fans. Every player and manager is missing the direct connection with you and the impact that you have on our games.
"With the EFL, Premier League, Women's Super League and Women's Championship already staging 11 successful test events recently, we have demonstrated that we can deliver matches safely.
"The sooner we can return, the sooner we can reunite communities and support local jobs, livelihoods, regional businesses and also the national economy.
"We will continue to urge government to allow us to return fans safely to stadiums. It is positive progress that major arts and music venues have been told they can run socially-distanced events indoors. And now football should be allowed to do the same - in highly regulated and stewarded outdoor environments.
"Additionally, representatives from football are active members of the government's Sports Technology and Innovation Group, as well as being involved with their 'Moonshot' mass-testing project to open up the economy.
"In light of the postponement of test events we will intensify our efforts to pioneer new approaches - working with epidemiologists, scientists and medical experts in areas such as public health, clinical processes and occupational hygiene.
"This will make sure stadiums are Covid-safe by considering best practice screening and hygiene methods to ensure that fans and the general public will be safe and drive the Government's sporting plans to move faster.
"Stadium environments can be modified and carefully managed. Measures could include screening spectators before they enter the ground, installing temperature checks, requiring masks to be worn, one-way systems and providing a code of conduct for all those attending on a matchday. This will all be bolstered by deep-cleaning practices to help further reduce the risk of virus transmission.
"Clubs want to be proactive on this matter and willing to consider measures both in the stadium and on the approach that will allay any concerns as to fans' safety.
"From a travel perspective, clubs will work closely with experts and local authorities to model solutions relevant for each stadium to ease pressure on public transport, while extra parking facilities could be available so a greater proportion of you can travel by private car or bicycle.
"We are determined to identify a path forward with government. We need clarity for our clubs and for you as supporters as to what the roadmap for change in this area looks like.
"We all know why caution is needed, and we ask government for consistency in their policy so sport is treated as fairly as other activities currently allowed to welcome spectators.
"So, we will continue to urge the relevant authorities to let us, together, use innovative ways to bring fans safely back into football grounds, starting with a return of the test event programme. If we do so, then the benefits will be felt not just by fans but throughout society and the economy."