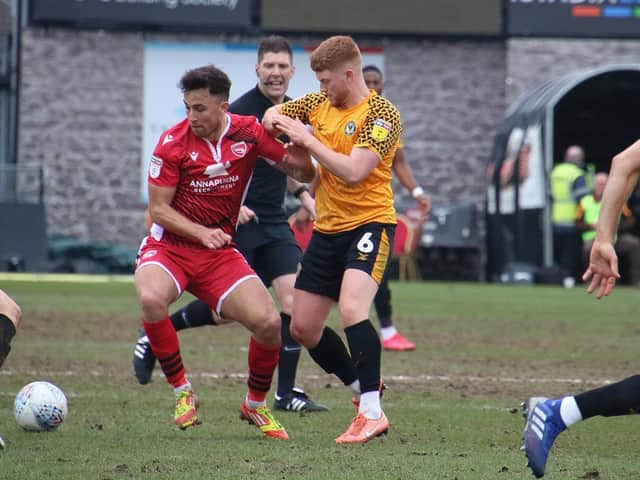 Morecambe's last match was the defeat at Newport County AFC in early March
It was reported last week that a restart date of August 29 for the new season was under consideration, along with a potential alternative of September 12.
Either would fall within a month of the original date, even before the coronavirus pandemic which saw the football season suspended in mid-March.
However, as the Shrimps' chief explained, a return to training and then playing matches either behind closed doors or in front of a reduced crowd, brings more problems.
"It's all still in the air," he said.
"It's an ongoing debate and there is still a lot to be talked about and decided.
"Players will have to be coming off furlough even though there's no income.
"Are people going to be allowed in the ground? If not, will they have to watch on something like iFollow and what happens with that?
"We don't know the answers at the moment but there is a lot of debate and discussion going on.
"Clubs might get their central funding from the EFL but that's there for a reason as well."
Despite the current state of flux in which lower league football finds itself, it's understood that the Shrimps will be making an announcement shortly about season tickets for the 2020/21 campaign.
It follows on from last week's details of how season ticket holders from 2019/20 can obtain a refund – should they wish – for the five home games that weren't played last season.
As a result, they have come up with four options for those season ticket holders affected.
The first is to donate the unused value of their 2019/20 season ticket to the club to help mitigate the costs of Covid-19 and to aid with planning for next season.
Alternatively, they can request a credit of 20 per cent to be applied to the purchase of a season ticket for the 2020/21 campaign.
Option number three is a voucher worth 20 per cent of the season ticket cost to be spent in the club shop.
The final option is a refund to the value of 20 per cent on the season ticket for 2019/20.
No action is required by season ticket holders wishing to donate the unused value of their season ticket back to the club.
Supporters wishing to take up one of the other three options should email [email protected] or phone 01524 411797 and select option 0 before the closing date of 5pm this Friday, July 10.
It is understood that few fans have asked for money back, following on from the pledging of more than £26,000 to the club during the summer crowdfunding scheme.
"We accept people all have very different financial circumstances and that it's a tough time," Taylor said.
"However, the response over the summer has been magnificent from supporters and season ticket holders.
"When you aren't earning money then it becomes increasingly difficult but, on the back of the crowdfunder appeal, the fans have done their bit and we appreciate that.
"It's incredible when you look at other clubs. Our fanbase might be smaller but what they have done is excellent – you can't describe it as anything else."