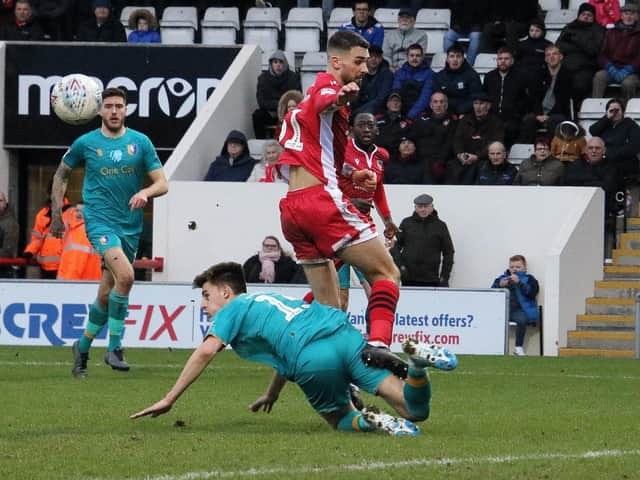 Adam Phillips scored Morecambe's first goal at Cheltenham Town
In a revealing interview after Saturday's 2-1 victory over Cheltenham Town, the Shrimps' boss said the club needs to move forward, show more belief in itself and shed the 'little old Morecambe' image.
Adams said: "I'm trying to change the mindset of this football club.
"The mindset is that we are trying to be not 'little old Morecambe'. We are trying to be Morecambe Football Club and we are trying to be bigger and better than we ever have been, and that's the mindset I've got to change in a lot of people at the football club going forward.
"I think the supporters want that. They want change and they want us to feel that we can compete with other clubs.
"Financially, we will never be able to compete and that is the way it is but on the field you have 11 players against 11 and we will compete.
"On Saturday we had 14 players who competed for every ball. They didn't have many better players than we did on Saturday and that is testament to the way we played.
"I have a huge amount of respect for Cheltenham and the players they have but we beat them and deservedly so."
The Shrimps are back in action on Tuesday when they host Oldham Athletic in the Carabao Cup second round.
They follow that up with another home game on Saturday when Cambridge United visit the Mazuma Stadium.
Adams is hoping to have Aaron Wildig back available after missing the first week of the season through illness, leaving A-Jay Leitch-Smith as the only doubt.
He may also be in the market for a left-back following Luke Conlan's departure to AFC Fylde last week.
Adams' players go into Tuesday's game looking for a third win in four at the start of the season after their victory at Cheltenham.
Late goals from Adam Phillips and Carlos Mendes-Gomes saw the Shrimps shock last season's play-off semi-finalists.
Adams said: "We came here and took the three points in what I thought was a thoroughly deserved victory for us.
"We knew it was going to be a tough game because Cheltenham have a very good record at home and were a side I thought deserved to be in the play-offs last season.
"They have a quality squad with players of the calibre of Reuben Reid and Matty Blair on the bench, which tells you the type of players they have.
"We matched them, and over the 90 minutes, I think we created a lot of good openings and deserved the win. We got the tactics right and the players were great.
"I'm delighted for the players and delighted for the supporters. It can't be easy for them to not be able to come to the games and have to watch it on their televisions but I'm glad that those that did tune in saw a very good victory."
Talking about the game, Adams said: "They started very well as we knew they would.
"They had a very good home record last season and we showed them a bit of respect as we changed our formation to stop their threat.
"I thought they scored just as we were beginning to get on top.
"We lost a goal with a ricochet all over the place but then had some fabulous chances.
"We dealt well with their threats and we saw in the end how we could exploit their weaknesses, which is something we had worked hard on in the week, and that is exactly what we did when we got the winning goal."