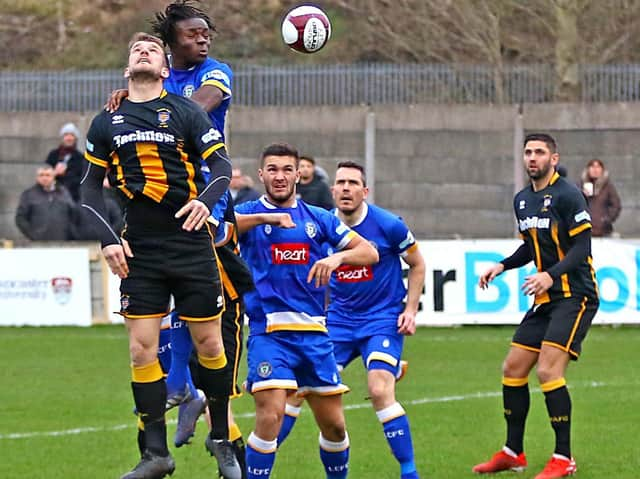 Ibrahim Bakare had spent time on loan with Lancaster City last season Picture: Tony North
The 18-year-old, who had been added to the first-team squad last year after impressing with the club's academy, had been handed the number 22 shirt for the new season over the summer.
However, that was given to Liam Gibson after he joined the Shrimps last month and Adams has now clarified the situation with Bakare.
He said: "Ibrahim has left the club. It was probably best for both parties.
"The issue I had was he was allowed to go out on trial every week to a club.
"He was going on trial to various clubs, then coming back, so he was never going to be able to have a go at Morecambe because he was allowed to go out in writing.
"As far as I'm aware, he's just looking for a club. He'd been on trial at a few clubs with our permission before he left.
"His contract has been terminated but we have a sell-on clause that enables us, if he does well somewhere else, to get some money."
Over the summer, Adams had said his ideal squad would comprise 20 senior professionals and two first year pros.
At present, he has 21 seniors and two youngsters in Freddie Price and third choice keeper Andre Da Silva Mendes.
Price has featured in both EFL Trophy games this season and Adams has reiterated his desire for the 17-year-old to go out on loan and experience some senior football.
"We're still trying to see what we can do," he said.
"Last Saturday (against Port Vale), he missed out in the 18 but he's been in the squad before a number of times, especially in the EFL Trophy games.
"I just think a loan move is more beneficial for him at this stage."
The Shrimps have also confirmed amended kick-off times for their home matches with Mansfield Town and Exeter City on October 20 and November 3 respectively.
Both matches will now start at the earlier time of 6.30pm.