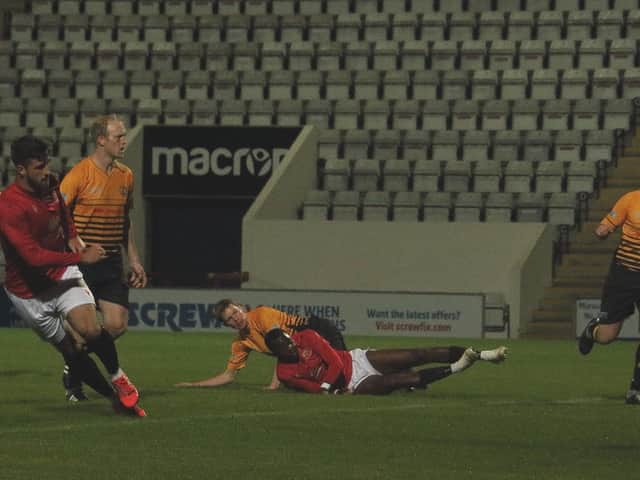 Cole Stockton has found the net in pre-season
The Shrimps kick off the 2020/21 season with Saturday's Carabao Cup tie at Grimsby Town, followed by an EFL Trophy group game with Rochdale at the Mazuma Stadium this time next week.
Saturday's game will be the club's first competitive match in 26 weeks, having last played when they were beaten at Newport County AFC on March 7.
The outbreak of coronavirus saw the 2019/20 season curtailed for League Two clubs, barring those in the play-offs after the final table was determined.
It has also forced clubs to amend their working practices ahead of the new campaign.
Although Adams' players will have had six weeks of training under their belts, they are likely to have only played three friendlies in preparation for Saturday's season opener.
Two of those were behind-closed-doors matches at the respective training grounds of Premier League sides Manchester United and Everton.
"We had to go with face masks and go in our own separate cars to the training ground," Adams said of their trip to United.
"The cars were parked separately to each other and we had to stay in our cars until 45 minutes before kick-off.
"We couldn't use the dressing rooms. It's not an easy process that's for sure."
The new protocols also affected the first week of pre-season training for Adams and his players.
Rather than everyone taking part in double sessions immediately, it was a case of smaller groups and shorter days instead.
However, that could all change after the first week when tests for Covid-19 were carried out and no positive results returned.
Since then, the training has been stepped up even if the protocols mean it is still different to anything players and management have experienced before.
Adams said: "We're training but, again, we aren't allowed to use the dressing rooms or anything inside.
"We have to go to the training ground in the morning and wait until we're ready to go in.
"Then we sit in our cars, have lunch and then train again in the afternoon.
"That's the protocol that we're having to work under – it's not too bad sitting in your car when it's raining but it isn't great when the sun's out and it's a nice day!
"Once we get back to normality, which is hopefully not too far away, then we will go from there."