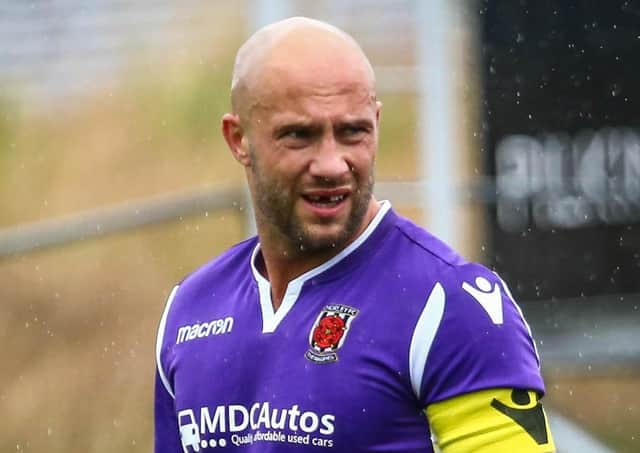 Andy Teague
The centre half joined the Dolly Blues in January 2011, taking over as skipper almost immediately, before going on to win three promotions in eight years as the club navigated its way back to the top table of non-league football.
Over nine and a half seasons, across the top four divisions of the non-league pyramid, the man voted the Northern Premier League's fourth best player of all time amassed 390 appearances in the black and white stripes, scoring 35 goals.
"I've too many people to thank individually as a decade is a long time to play for one club," Teague told ChorleyFC.com.
"My team-mates, fans and everyone involved with the club have been brilliant and an important part of my career.
"You get a lot of ups and downs in football, but I can honestly say that almost every single part of being involved with Chorley has been an up.
"When I first joined I was sold on the vision the club had for progressing up the non-league pyramid and we've just gone from strength to strength. From crowds of 250-300 to average five times that in the space of a few years while moving up three levels, playing big FA Cup games.
"It's been a privilege to be part of the journey. Being part of the club, the town and the community for so long – it now feels weird to be saying goodbye, but that's football. Chorley will always be a part of me and who knows, maybe I'll return in the future."
Boss Jamie Vermiglio paid tribute to the 34-year-old defender: "He's been a fantastic skipper, player, team-mate and ambassador for the club and it's been a privilege to share all the successes with him over the last 10 seasons.
"He is and will always be a huge part of Chorley's recent history."
Lancaster boss Mark Fell was thrilled to capture the ex-Macclesfield Town man.
Fell lancastercityfc.com: "We probably didn't have the defensive depth we needed last season and despite having the most clean sheets in the league, I felt we needed at least one, probably two more defenders in.
"Teaguey has all the attributes we look for, he's got a great attitude, great defensive qualities and is an outstanding leader.
"It's been very straightforward, he wanted to play for Lancaster and we wanted him here."