Magpies manager believes his men are in false position at bottom of the table
Chorley boss Jamie Vermiglio  remains positive despite his team's current position in the early National League North table.
Tuesday, 17th November 2020, 8:00 am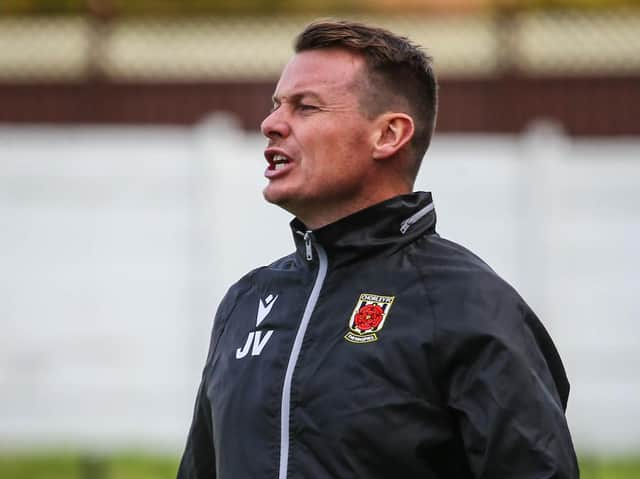 Chorley boss Jamie Vermiglio (photo: Stefan Willoughby)
The Magpies may have reached the second round proper of the FA Cup after winning three matches including the scalp of Wigan Athletic but they have yet to pick up a victory in the league.
Their first four games ended in narrow defeats and last time out they drew 0-0 away at Kidderminster Harriers.
On Saturday, their scheduled home game against Leamington was called-off after a member of the visitors' squad tested positive for Covid-19.
However, they have a chance to register their first three points of the season this evening when they travel to AFC Telford United.
"We have proven in the FA Cup that we are more than capable of picking up results," said Vermiglio, whose team's other wins in the cup came against NL North opposition in the shape of Gateshead and York City.
"If those wins had have been in the league then after after eight games we would have 10 points on the board.
"Okay that's not promotion form, but it wouldn't be all doom and gloom as it is now.
"The team's form is not as bad as it looks but the league is important and we need to start ensuring that we pick up points."
Although Chorley are rock bottom, Vermiglio insists it won't take too long for the picture to look rosier once his team start picking up wins.
"I would say it's more difficult at the top in terms of when you win, you don't seem to move as much," he said.
"But when you're at the bottom, the movement is massive.
"If we were to win tonight and win on Saturday at Hereford then it won't look as bad as what it looks now.
"So that's what we're hoping for – a drastic movement in the league over the next few weeks and over the next four or five games."