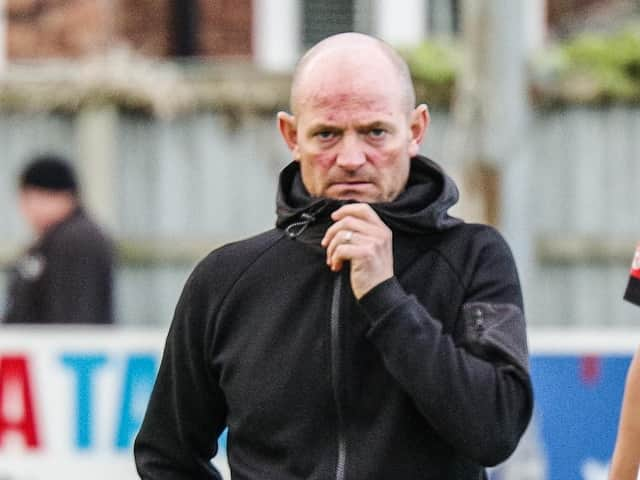 Jamie Milligan
The second national lockdown which came into being at the beginning of this month has caused a shutdown in the NPL Premier Division.
It is the second time since the season begun two months ago that Brig have had to close down all football operations.
After their opening day win over Matlock Town at the Sir Tom Finney Stadium, Brig didn't play again for another two weeks after one of their players tested positive for the virus, forcing the whole squad into a period of isolation.
That left them with a fixture backlog, especially compared to other clubs in the division who were able to continue as normal.
Unfortunately since that resumption, Brig have not been able to add any more wins to their league record – their only other victory arriving in the FA Trophy away at Radcliffe.
It means they have dropped to third bottom in the table after losing seven games out of eight before the season was brought to a halt once more. In mitigation, Brig have been besieged by a host of injury problems and they have also found themselves on the wrongside of the margins.
Five of their defeats have been by a one goal deficit – their 5-0 defeat at Atherton Collieries certainly appears to be blip.
Milligan said: "The Atherton game, we had a couple of 17-year-old lads on the pitch and we had one fit sub, so I can let that one ride.
"The rest of the games, we have been beaten by odd goals which is frustrating because the lads have been doing everything I have asked them to do and playing how I want them to play, it just seems that at the minute the opposition are better than us in both boxes.
""We had got the season off to a good start by beating Matlock 1-0 and then the club went into lockdown and that's really killed us, killed our momentum.
"The lads came back after two weeks with no training sessions and went straight into playing three games in a week.
"That's when we started picking injuries up and muscle strains.
"That's how we ended up with eight or nine injured.
"It has killed us but it is one of those things.
"What can you do? You just have to get on with it."
By the time the season re-starts next month – and there is some debate as to whether it will start straightaway considering players will have been sidelined for a month – many of Brig's walking wounded should be full recovered,
Meanwhile, George Thomason has been recalled by his parent club Bolton Wanderers. He scored twice while on loan.