Lancaster City were beginning to find their form before national lockdown
Lancaster City boss Mark Fell admits the national lockdown – which came into effect on Thursday – has come just at the moment when his team were beginning to find their feet this season.
Friday, 6th November 2020, 1:07 pm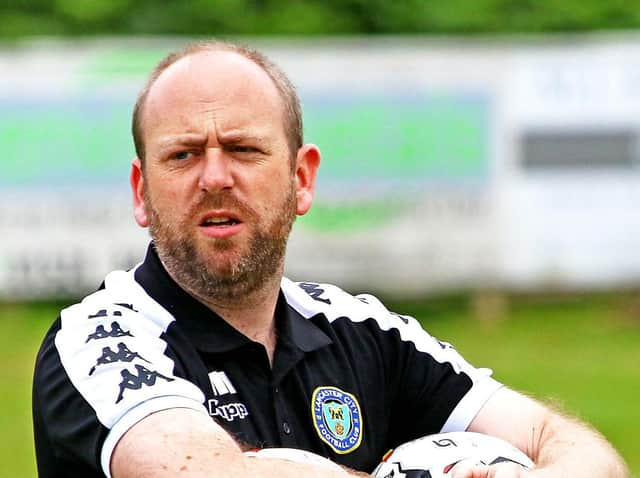 Lancaster boss Mark Fell
Football at non-elite level has been placed in cold storage for a month after the government announced new restrictions at the weekend.
The Dolly Blues – who are in the NPL Premier Division – are one step below the National League North, which is classed as elite level along with the National League, the Football League and the Premier League.
It means City's 1-1 draw at Hyde United will be their last game for some time and their scheduled home clash against Radcliffe Borough tomorrow will not go ahead.
It is particularly frustrating for Fell as his men were starting to get the bit between their teeth after a relatively slow start to the campaign.
They are unbeaten in their last five games although Saturday's 1-1 draw in the FA Trophy at Warrington Town ultimately ended in defeat via a penalty shootout.
In terms of the league, the 2-1 home loss to Basford United is their solitary defeat of the campaign so far.
"We have lost one in seven in the league," said Fell. "I was hearing little bits about what a poor start we'd had.
"It's not really a poor start. We had to wait a few games for our first win, but since then we have done okay.
"The only criticism people will probably have is that we have drawn too many.
"That is true. We have lost one in seven, won two and drawn the other four.
"There have been opportunities in those four games to turn a couple of those draws into wins, including on Tuesday night at Hyde.
"But we are very much in it at the top. You could call us one of the form teams because we are not losing games.
"I would say we have just got to have more of a sharp edge in the final third and score a few more goals.
"We are doing okay. We are par for the course I suppose and where we probably should be."