Lancaster City boss Mark Fell and his squad have a spring in their step once again
The whiff of a new football season has given Lancaster City manager Mark Fell a little spring in his step.
Thursday, 1st April 2021, 8:04 am
Updated
Thursday, 1st April 2021, 8:06 am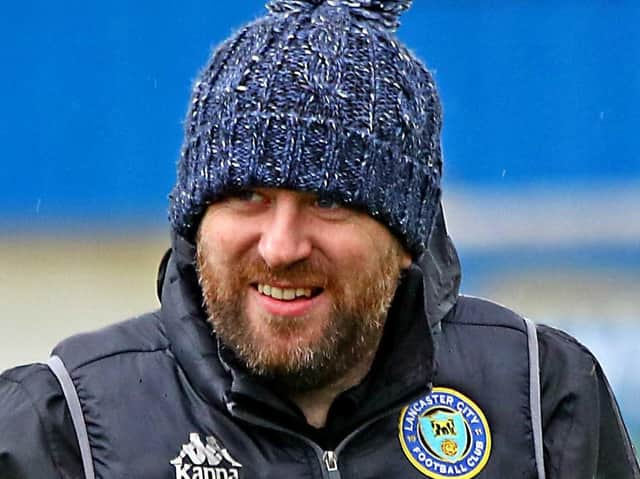 Mark Fell (photo: Tony North)
The Dolly Blues boss has admitted to feelings of disillusionment over the past few months due to the devastating impact of the Covid-19 pandemic.
Never forgetting the huge human cost of coronavirus, the pandemic has also had a huge effect on people's every day lives – and still continues to do so.
For Fell he has seen two football campaigns fall by the wayside but with the country slowly easing itself out of lockdown and punitive restrictions, there appears to be light at the end of the tunnel.
This week's official confirmation that the 2021/22 Northern Premier League season will start on August 14 was a step in the right direction. And Fell revealed he has been buoyed by the positive conversations he has had with every member of his existing squad.
Fell said: "I would say for all the negativity which has been around – myself included – I have been disillusioned by what's happened in football, but it didn't take long to get the bug back and be raring to go.
"I have now spoken to all of my players and their responses have been good in terms if they are going to be playing next season, they will be playing for us.
"I think a lot of the players feel like there is unfinished business with us and they will want to have another go.
"It's nice to hear that we are doing things right from a player perspective. I won't be naive enough to say that we won't lose somebody between now and the start of pre-season because this is non-league football.
"There is generally a turnover of players but what I would say it's not going to be wholesale, it maybe a couple here or a couple there.
"I don't envisage a mass re-shaping of the squad but you have to remember we are still in March, it's still very, very early and ultimately we don't know."
The club is also keeping tabs on a planned restructure of the non-league game.
The plan would create three extra divisions, one at step four of the non-league pyramid and two at step five, was due to have taken place during summer 2020, but due to Covid-19 preventing the 2019/20 season from being completed, the restructuring was put back 12 months.
The same fate befell the 2020/21 season, but the FA have not ruled out the possibility of implementing the restructuring changes which have been previously agreed.
Support us and become a subscriber today. Enjoy unlimited access to local news, the latest football stories and new puzzles every day. With a digital subscription, you can see fewer ads, enjoy faster load times, and get access to exclusive newsletters and content. Click here to subscribe.