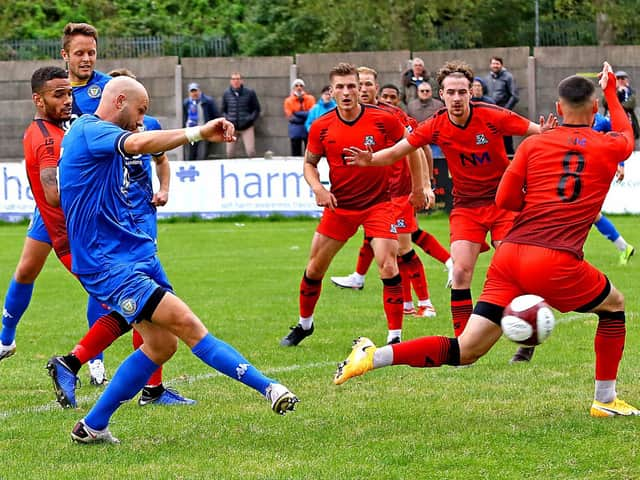 Lancaster captain Andrew Teague (photo:Tony North)
The Dolly Blues defender has spent the vast majority of his life kicking a football around a pitch at the weekends.
A former professional with Macclesfield Town, the 35-year-old has enjoyed a stellar non-league career with Chorley sandwiched by two spells with City.
His whole life has been geared around playing Saturday-Tuesday, and training on Thursday night while combining his career in the care sector.
Unfortunately, that routine has been severely disrupted over the past year due to the Covid-19 pandemic.
While Teague acknowledges the devastation caused by the pandemic puts everything into perspective, he admits he cannot wait for the day when some kind of normality resumes across the country.
"It's been very strange this past year," said Teague. "It's kind of shown me what life is going to be like once I retire from playing, which is not a very nice feeling to be honest.
"I think it also shows with the career that I have had , how much football has helped me in a lot of ways.
"Obviously you have the physical side of things, helping me keep fit but also the mental side of things.
"It's helped me keep active and focused and so not to play since November, it's probably been a bit longer for me because I was suspended for three games, has been hard.
"It's been very weird, but luckily I have been going out running and cycling, keeping myself busy and focused for the better days which are going to be ahead soon."
Indeed, City have not kicked a ball in anger since the beginning of November when they drew 1-1 at Hyde United and Teague believes any hopes of this season's NPL Premier Division re-starting look to be dwindling fast.
"I think our season will be declared null and void," he said "The National League North and South has gone that way.
"Clubs just can't finance things when they have no money coming in.
"Until the fans are allowed back in and they can spend their money on a programme, a pie and pint – it's all that income which people don't see – which keeps clubs like Lancaster going.
"It is not just the ticket revenue, it's the money fans spend in the ground – it's a lot to clubs like ourselves."