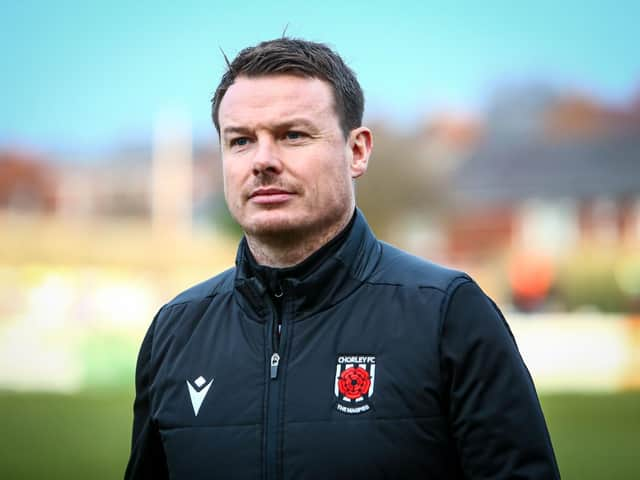 Chorley boss Jamie Vermiglio
The Magpies take on the League One side in the FA Cup first round proper – a tie which is being screened live on BBC Sport.
Although Chorley have enjoyed several big occasions over the past decade – from winning promotions and other terrific cup runs – this weekend's game is without doubt one of the biggest games in their history.
The Latics may have fallen on hard ti mes recently, but they spent several seasons in the Premier League and, of course, most famously of all won the FA Cup in 2013 when they shocked Manchester City at Wembley.
Since football returned at elite level following the first national lockdown due to the coronavirus pandemic, it has been played behind closed doors.
Vermiglio revealed he and his players have become accustomed to the feel of not having any fans inside grounds but he admits that they will miss the sound and support of a 1,000-plus Magpies supporters inside Wigan's large stadium.
Vermiglio said: "The fact that the fans will not be there, joining in with the experience has put a little bit of a dampener on things.
"We are getting used to the fact that we are playing games behind closed doors.
"I know Wigan won't have any fans inside the ground either but it's not that.
"It's just the enjoyment factor, the build-up, the fans being there – the taste and smells. You are not able to share the experience.
"This game is big for the town and if all our supporters were able to come to the game on Sunday, the exposure would just be greater and the build-up would be greater.
"That's not taking anything away from the players – it's an exciting time for them playing in a large stadium on a nice pitch.
"But I guess it will be quite an eerie experience for most of our lads who won't have experienced anything like that before this season.
"It's just a shame that we will have no fans."
Vermiglio admits this week has been hectic to say the least. He has been inundated with media requests with the BBC's flagship programme Football Focus heading to Victory Park
yesterday to film, while Granada Reports interviewed him at his school Locking Stumps, where he is the headteacher.
"There's been quite a lot of publicity surrounding the game in terms of it being a local North West derby," said Vermiglio.
"It's an exciting time for the club and hopefully we can get one over on them and hopefully progress to the second round. That is always the dream, but we know it's going to be tough."