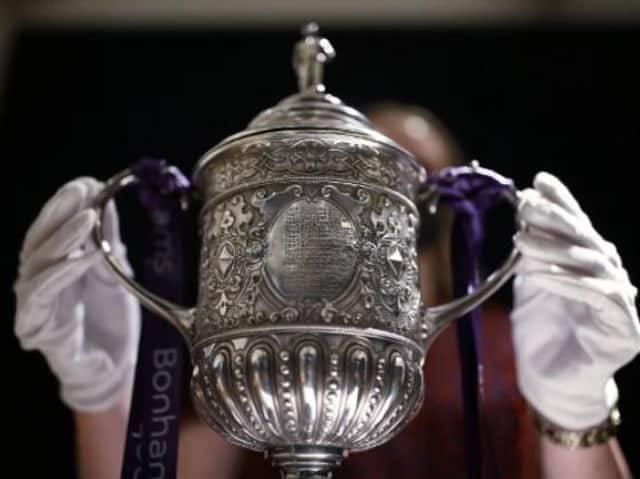 The old FA Cup bearing PNE's name sold for £760,000.
The trophy, which is engraved with the competition's past winners including Preston North End, was put up for auction by West Ham co-owner David Gold who had owned it since 2005.
Gold bought the "unique piece of English football history" for £478,000, saying at the time he was safeguarding it for the nation. Now there are fears it will end up abroad.
After some "spirited" bidding at Bonhams in London yesterday, the prized lot went for £759,062. The buyer insisted on remaining anonymous.
David Gold (right) hands over the FA Cup in Preston to National Football Museum director Kevin Moore in 2006.
The 50.7cms tall trophy replaced the original FA Cup which went missing from a shop window in Birmingham in 1896 where it was on show after being won by Aston Villa. It was believed to have been melted down.
The new cup, an exact replica cast from the same mould as the original, was presented to the competition's winners between 1896 and 1910, before being presented to FA President Lord Kinnaird for his services to football.
It bore the names of all the previous FA Cup winners dating back to 1872, including North End's famous Invincibles side which won the league and cup double in 1888/89.
The trophy remained with the Kinnaird family for 95 years before Gold bought it in 2005 when he was owner of Birmingham City.
The PNE Invincibles who won the FA Cup in 1889.
A year later he loaned it to the National Football Museum in Preston to be the centrepiece of an exhibition celebrating the history of the FA Cup.
Museum director Kevin Moore said at the time: "We are delighted that Mr Gold purchased this incredible piece of football heritage to save for the nation."
It remained on show in Preston until 2009 when the museum was controversially moved to Manchester.
Jon Baddeley, managing director of auctioneers Bonhams, said: "We are very proud to have been entrusted with the sale of this legendary cup.
"It embodies so much of the early history of our national game that it can be, without exaggeration, be described as a national treasure."