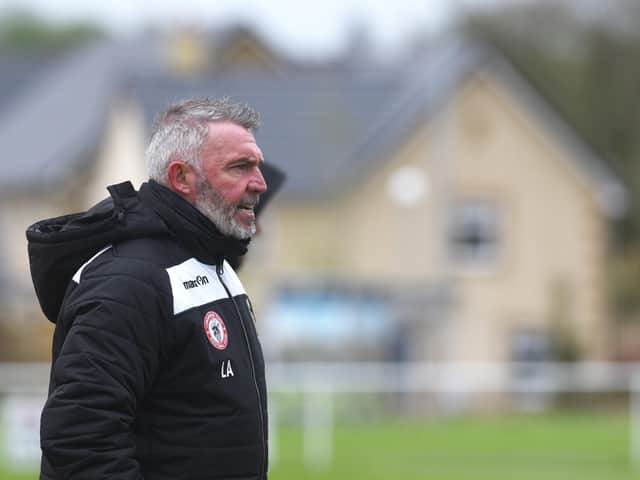 Longridge Town boss Lee Ashcroft
The Football Association has announced a phased return of fans at clubs playing in steps three to six of the men's National League System (NLS) and teams in tiers three to four of the women's football pyramid.
Fans have been unable to watch matches since mid-March following the suspension of football as a result of the coronavirus pandemic.
Spectators will be allowed through the turnstiles for games played between August 22 and 30, providing their number does not exceed 15 per cent of the minimum ground grading capacity at these levels.
From August 31, clubs will then be permitted to allow spectators to attend fixtures provided their number does not exceed 30 per cent of the minimum ground grading capacity.
If a club does have any fixtures before August 30, they must play at least one pre-season or competitive match at the 15 per cent threshold before moving on to the 30 per cent limit.
For Longridge and Garstang, operating at steps five and six in the NLS pyramid respectively, it means a maximum of 150 fans in the first phase before going up to 300.
Longridge have three home friendlies in the next week against Ramsbottom United (August 22), FC United of Manchester (August 25) and Kendal Town (August 27).
Fans who attend can watch the games in groups of six, as per government guidance, but on a ticket-only basis.
Tickets for those friendlies can be purchased from the Mike Riding Ground today (6pm-8pm), Friday (5pm-7pm) and Saturday (9am-11am).
To meet government guidance, anyone purchasing tickets must supply track and trace details, while anyone who turns up without a ticket will be refused admission.
However, the club will be reassessing the ticket-only format following this trial period.
For their part, Garstang had previously announced all of their pre-season games would take place away from the Riverside.
It's now anticipated there will be at least one home match in order to become accustomed to the new guidelines before the 2020/21 season kicks off.
A club statement said: "The Garstang FC board will be meeting next week to finalise what we need to fulfil our risk assessments at the ground and to put everything in place.
"We are going to organise at least one friendly so that we can have a 'trial run' and ensure everything runs as smoothly as possible.
"We have a lot of work to do and we will be asking for volunteers to help us get everything cleaned up and for some help on matchdays to assist with various jobs including track and trace.
"We look forward to getting fans back in but we do need your help, patience and good humour to make this work for all of us to get back to watching football as safely as possible."
The phased return of spectators at these levels was confirmed by the governing body following discussions with the Department for Digital, Culture, Media and Sport and the Sports Grounds Safety Authority.
It will remain under constant review in line with government guidelines and, if necessary, amended accordingly.