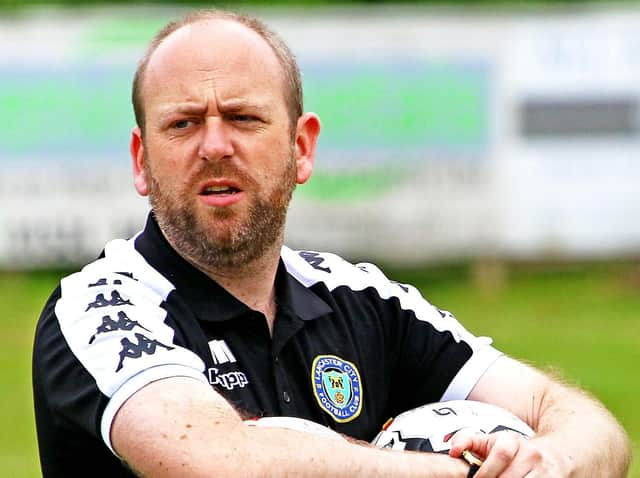 Mark Fell
The Dolly Blues are at the front of the queue to sign the unnamed forward, who has enjoyed spells with Oldham Athletic and Morecambe in the past.
However, Fell revealed a succession of injuries has hindered the player's progress in recent seasons but he is hoping to kick-start his career with Giant Axe is likely next destination.
"We are hoping to make a signing this week," said Fell (pictured). "We have been negotiating with an ex-Football League striker for the last couple of days.
"I think the deal is done but until it's signed and I see the whites of the player's eyes, which I am due to do tonight, you just never can be sure the deal is done.
"If I do get the player that I expect to it will be potentially a big signing for us."
After the disruption caused by the Covid-19 crisis, City finally got some game time at the weekend when they played their first pre-season friendly at Longridge Town.
A Sam Bailey penalty was enough to seal a 1-0 victory for Fell's men , who were missing some key players such as David Norris, Matty Blinkhorn and Glenn Steel .
"It was a tough challenge for us," said Fell, who also gave run-outs to six trialists. "Longridge have been in a bit longer than us I think and they are a lot more settled than us in terms of having the same players from last year.
"They are an excellent side and in my view are probably the best side in the North West Counties.
"I saw them play a few times last season and they do play some nice football.
"It was good to get through the game not necessarily because we won the game but we got everybody through the game without picking up any knocks whether that was for 45 minutes or 60 or 90, they all came through and that was the pleasing thing."
As City work towards a planned September 19 start, Fell has decided to give the players this weekend to relax before scheduled fixtures against Colne and Padiham the week after.
"We've no game – I've given them the weekend off," he said.
"I have done that because we have probably been in too long because of all the messing about.
"So I said to the lads that they've worked hard.
"We will give them a blast this evening at training and they can go and enjoy themselves this weekend."