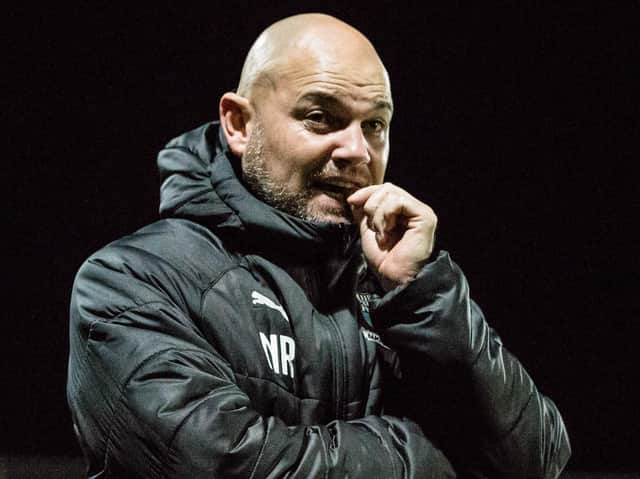 Neil Reynolds believes VAR is ruining football (photo: Ruth Hornby)
The current FC United of Manchester boss admits he has found himself switching off the television when Premier League matches are on.
A self confessed football fanatic, Preston man Reynolds believes VAR – which is only used in the top flight of English football – has become a scourge of the modern game and as such is ruining it as a spectacle.
Since its introduction at the start of the 2019-20 season, VAR has been the subject of much controversy.
Countless number of goals have been chalked off over the past two campaigns because VAR has ruled that a player was offside by a few millimetres.
Before the technology, referee's assistants were instructed to always give the benefit of the doubt to the attacking team when adjudging offside.
Other incidents such as sending-offs and penalty decisions have also been sent to the video referee and Reynolds believes it is killing the enjoyment of the game.
He has lamented the fact that the game now appears determined to look at every way possible to disallow goals, which are the very essence of why people play the game and fans watch it.
"I am not a fan of VAR," said Reynolds, who is the principal of South Shore Academy and was the former head of Fulwood Academy.
"If I am honest, I love the talking points that you get from a game of football.
"Even now we talk about the Geoff Hurst goal of 1966 – even the Frank Lampard goal that never was against Germany in the 2010 World Cup.
"I think the problem now is players can't wheel away in delight after scoring in the last minute of a game of football.
"Now we are checking whether someone's little toe was offside.
"I know money is involved, but I think common sense can prevail.
"We are taking so much away from football.
"Your team gets that last-gasp equaliser but the players now can't jump on top of each other and celebrate because the VAR officials will be checking it.
"There have been some absolutely shambolic decisions. Even if you're a fan sat at home watching a game on your settee, you can't get excited if your team scores because you're now worried it's going to get disallowed.
"I understand in the Premier League there is the financial aspect of it all, and I know myself that I have contested a decision as a player or manager, especially in non-league where we have no technology to prove it.
"But I just feel it's gone too far and I know there are lots of players and managers who want it removed and I want it to be removed."
Support us and become a subscriber today. Enjoy unlimited access to local news, the latest football stories and new puzzles every day. With a digital subscription, you can see fewer ads, enjoy faster load times, and get access to exclusive newsletters and content. Click here to subscribe.