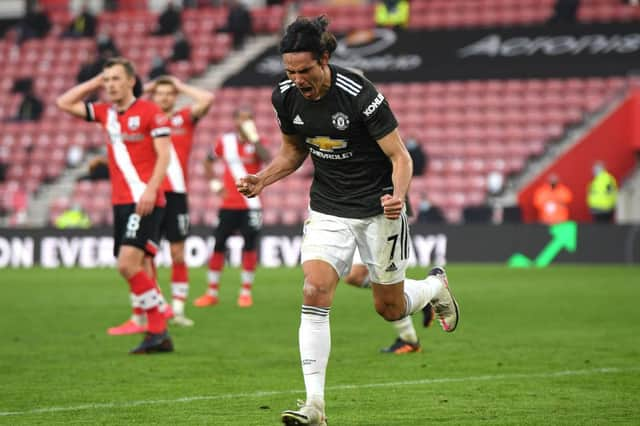 Edinson Cavani of Manchester United celebrates after scoring their sides second goal during the Premier League match between Southampton and Manchester United at St Mary's Stadium. (Pic: Getty Images)
Edinson Cavani has been charged by the Football Association for a controversial post made on the striker's Instagram page in the wake of Manchester United's win at Southampton.
Uruguayan Cavani, who scored twice in the fixture as Man Utd completed an unlikely comeback to defeat their hosts 3-2 at St Mary's Stadium, wrote in Spanish 'gracias negrito' in response to a message of congratulations on the social media platform on Sunday 29 November.
Social media users immediately opposed the use of the term 'negrito' and the post was later taken down but that hasn't stopped the FA from launching an investigation into the matter, with a possible three-match ban - or more - in the offing for the 33-year-old striker.
Cavani has apologised for using the term but has since been charged by the FA and has until Monday 4 January to provide a response to the charge.
Why is Cavani facing an FA investigation?
FA officials were made aware of Cavani's post and launched an investigation, which concluded on Thursday 17 December.
An FA statement read: "Edinson Cavani has been charged with misconduct for a breach of FA Rule E3, in relation to a social media post on Thursday 29 November 2020.
"It is alleged that, contrary to FA Rule E3.1, a comment posted on the Manchester United FC player's Instagram page was insulting and/or abusive and/or improper and/or brought the game into disrepute.
"It is further alleged that the comment constitutes an 'Aggravated Breach', which is defined in FA Rule E3.2, as it included a reference, whether express or implied, to colour and/or race and/or ethnic origin.
"The striker has until Monday 4 January 2021 to provide a response to the charge."
The FA issued guidelines ahead of this season clamping down on racist and discriminatory language and behaviour, with offences on social media carrying a minimum three-game ban.
Manchester City's Bernardo Silva and Dele Alli of Tottenham were both suspended for one match last season after posts that breached FA guidelines.
Has Man Utd responded to the FA's charge?
Man Utd acknowledged the FA charge and said it will continue its work with the relevant groups in the "fight against racism".
The statement added: "Edinson and the club were clear that there was absolutely no malicious intent behind the message, which he deleted and apologised for, as soon as he was informed that it could have been misconstrued.
"The player and the club will now consider the charge and respond to the FA accordingly."
What does 'negrito' mean?
It's a Spanish term which translates to 'little black person' in English.
Old Trafford bosses pointed to the allegedly widespread use of the term in South America and said Cavani would be made aware of how it might be misinterpreted, according to The Sun.
Football fans may recall the same term being used before by fellow Uruguayan Luis Suarez during his time at Liverpool. In 2011, Suarez received an eight-match ban for using the same term in an on field clash with Man Utd's Patrice Evra.
Suarez defended his use of the word at the time and later wrote in his autobiography that the word has a different meaning in Spanish.
What has Kick It Out said on Cavani's post?
Anti-discrimination group Kick It Out released a statement regarding Cavani's post and again called for overseas players to be educated on language which may cause offence in the UK.
"We are aware of a comment made last night on social media by Edinson Cavani that, in its native tongue, can be offensive in some contexts," Kick It Out's statement read.
"We understand that the FA is investigating and the club and player are co-operating with that investigation. We await the outcome of that investigation.
"As we have said before, we believe that it would be helpful for overseas players, coming to England, to have routine education on language that may be unacceptable in this country."
Following the fallout on Monday 30 November, Cavani released a statement.
It read: "The message I posted after the game on Sunday was intended as an affectionate greeting to a friend, thanking him for his congratulations after the game.
"The last thing I wanted to do was cause offence to anyone. I am completely opposed to racism and deleted the message as soon as it was explained that it can be interpreted differently. I would like to sincerely apologise for this."
A short statement from Manchester United followed.
It read: "It is clear to us that there was absolutely no malicious intent behind Edinson's message and he deleted it as soon as he was informed that it could be misconstrued.
"Edinson has issued an apology for any unintentional offence caused. Manchester United and all of our players are fully committed to the fight against racism."