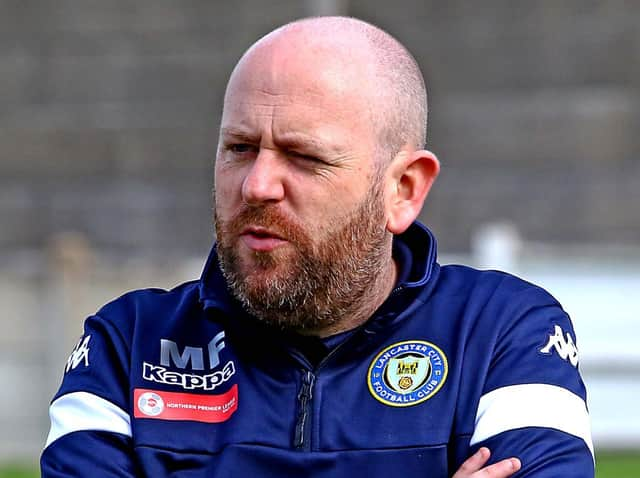 Lancaster City boss Mark Fell
The Football Association confirmed the inevitable last Wednesday night when they announced that the 2020/21 season at steps three to six in non-league would be curtailed with immediate effect, subject to FA Council ratification.
That decision followed last week's announcement that clubs in the National League North and South – which is step two of the non-league – had voted to null and void their season due to a dispute over funding.
Previously, clubs such as Lancaster City had been buoyed by news that they could be in line to receive grants to help them complete the present season, which has been in cold storage since the beginning of November after supporters were barred from attending games to prevent further spread of the Covid-19 virus.
However, with no promotion pathway through to the National League, there seemed little point in the NPL Premier Division restarting and that has had a knock-on effect on the divisions below.
Fell admitted the whole affair has turned into a fiasco and last week's announcement is of little surprise to him.
"There should have been solutions to certain scenarios laid out at the start of the season," said Fell.
"If this happens, we will do this or if this happens, then we will do this, and those should have been published.
"It's not been great – you have to get ahead of the game.
"The National League have been guilty of that.
"I think the way that has been run has been questionable, especially with the use of public funds to get the season started.
"The way that clubs were told that the grants would be grants for the entire season – well they weren't because the Digital, Culture and Sports Committee turned them into loans.
"I don't blame those clubs for not wanting to play on – some of them could have gone to the wall.
"If I am being honest, the administration of football needs to hang its head in shame.
"It's been really poor. I don't think clubs, managers, players have been at the forefront of their thinking and certainly not the supporters."