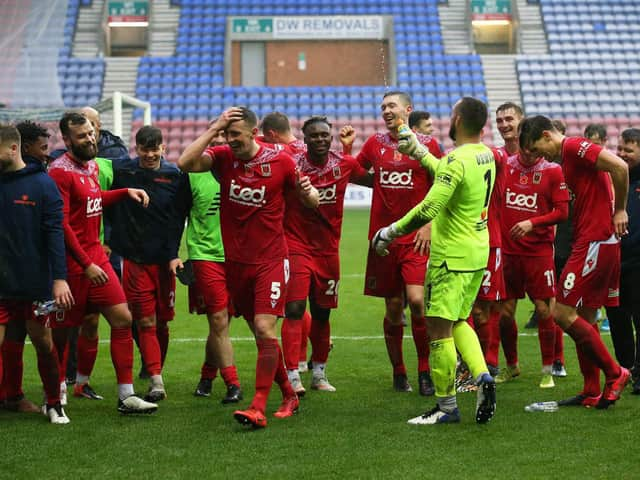 Chorley celebrate win over Wigan in the FA Cup
After beating Wigan Athletic in the first round proper last weekend, the Magpies manager was asked who he would prefer next.
Flippantly, Vermiglio said he would like either the best or worst team – based on league standings – remaining in the draw.
And he certainly got his wish on Monday when his men were paired away to League One leaders Peterborough United for the second-round tie which will be screened live on BT Sport on Saturday November 28, with a 5-pm kick-off.
"We are really looking forward to the Peterborough game, which has been chosen to be televised which is great," Vermiglio said.
"I was actually only joking when I said I wanted the highest-ranked team left in the competition.
"It's the toughest one on paper – they are the toughest side left in the competition at the moment.
"It's going to be a stern test for us but we will go there with some belief in the fact that we have already caused an upset.
"We know it does happen and so why can't it be us again?"
Having put so much into the victory over Wigan on a large pitch at the DW Stadium, Vermiglio admitted his players have been feeling the physical effects this week.
But he believes they should be fully recovered when they host Leamington this weekend.
"We trained on Tuesday night and a lot of the lads were feeling tired and complaining of a bit of stiffness," said Vermiglio. "When you are playing a game like that, the adrenaline is flowing and the lactic acid builds up in your system quicker.
"You do get cramp in your muscles and a lot of our lads did suffer with that, especially in extra time.
"But I was really impressed with our fitness levels.
"I thought they were phenomenal and we more than matched Wigan in terms of our intensity up and down the pitch, which was really pleasing.
"The training session on Tuesday, we kept it sharp and intense and some of the lads struggled a little bit with that. But hopefully after last night's training session, they will be fully recovered and ready to go again by three o'clock on Saturday."
Meanwhile, one player who will not feature for Chorley this weekend is midfielder Sam Walker, who has rejoined Curzon Ashton.
"I am disappoointed about that," Vermiglio said. "Going there fits more into his life at the moment.
"But what it does is give somebody else an opportunity to stake a claim and I am still actively looking to strengthen the squad."