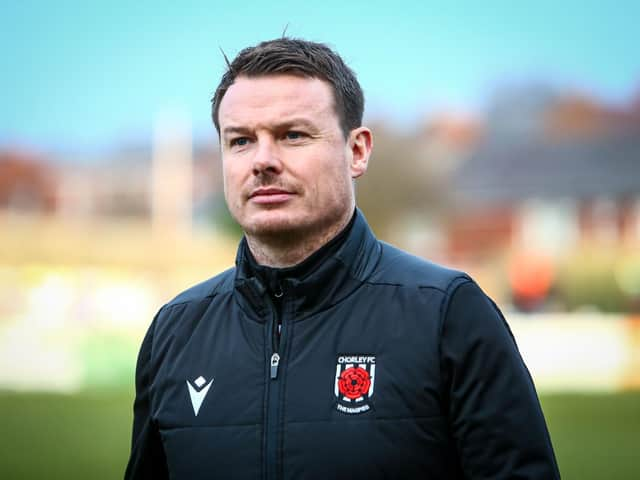 Chorley boss Jamie Vermiglio
The global pandemic has brought the football season to a standstill, with the National League Board announcing that they do not intend to re-start the 2019-20 campaign.
The ramifications of that in terms of promotion and relegation are still unknown – with Chorley affected especially considering their position at the bottom of the table.
However, Vermiglio is less concerned about that in comparison to the financial impact halting the season has had on the club, which in turn has had a major impact on the players.
With no games to stage at Victory Park, the club's main income stream has ended which means there may not be enough money to pay the players their wages.
"Some of the players are in a bit of a financial difficulty, with the club not being able to generate any income at the moment," said Vermiglio.
"We are like a lot of other small businesses who are struggling at the moment.
"I am investing a lot of time into that and helping with that. The players have had some payment but I don't know what the situation is going forward. The Government announced a few things and I think the club has to apply.
"Obviously there is forward planning at the club but I don't think you can plan for something like this.
"You have contracted players who are expecting to be paid and rightly so, but the players have been great.
"They understand that it's not just Chorley FC which is suffering, it's the whole world.
"It is tough at the moment, but the club are working hard. The chairman Ken Wright and vice chairman Graham Watkinson are looking at the Government's guidance to see how they can help a small company like ours.
"We obviously rely on a few things to generate income and we're still committed to paying the wages, but at the moment there is no money there."
Last week, Vermiglio said that he would feel uncomfortable about Chorley, who are cut adrift at the bottom of the National League, winning a reprieve from relegation if the season was declared null and void.
The Northern Premier League, which is two steps below the National League in the non-league pyramid, have already cancelled the season with no promotion or relegation.
The National League and the National League North have yet to rule on whether teams will be promoted or relegated despite stating that the season will not re-start.
But Vermiglio admitted all the ramifications of what will happen were the least of his concerns. "It's at the back of my mind about what league we will be in next season," he said. "My main concern is my players and their families and their safety."