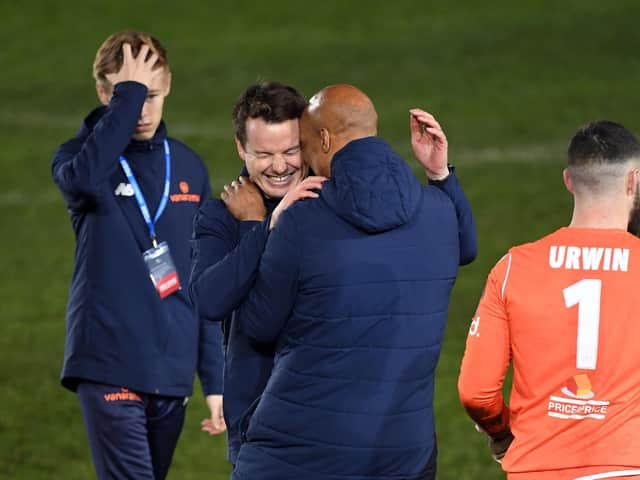 Chorley boss Jamie Vermiglio is hugged by assistant Andy Preece at the final whistle
The Magpies will go into the hat for Monday night's draw alongside Premier League giants such as Manchester City, Liverpool and Manchester United after beating Peterborough United 2-1 at London Road.
The visitors fought back from going an early goal behind to win thanks to second half strikes from Connor Hall and Lewis Baines.
Twice before, the Magpies have reached the second round of the competition in 1986 and then again four years later.
But each time they failed to progress and so the class of 2020 will forever be known as the squad which took the club to a place where it's never been before.
"The team talk was just write your own history," said Vermiglio. "You read about these things, you sit down and watch Match of the Day and see a non-league side, you see one of their lads scoring.
"You see them getting all the media attention, the publicity and you think why can't that be one of our lads, why can't it be us. Let's go and do it.
"They have written their own little piece of history, something that nobody can take away from us.
"Our league form is not great, we have got a big league game on Tuesday which is massive for us but we have got to savour this."
Nobody can argue that Chorley deserved the win, they hit the post twice and also missed a penalty.
Generally over the full 90 minutes, they were the better side.
"When you're watching the game, you don't truly get a true reflection of who is on top," Vermiglio revealed.
"I felt we were and the little bit of reflection I have done after the game, I have been thinking was it lucky, was it fortunate.
"Absolutely not was it lucky or fortunate.
"We have loads of opportunities, hit the post twice and I think we put them under a tremendous amount of pressure.
"I think it's dead important when you're a non-league side to take it to a Football League side and I think we did take it to them."
Vermiglio revealed he would love Liverpool and Manchester City in the third round.
"I would like Liverpool or City or anyone in the top four or five of the Premier League." he said.