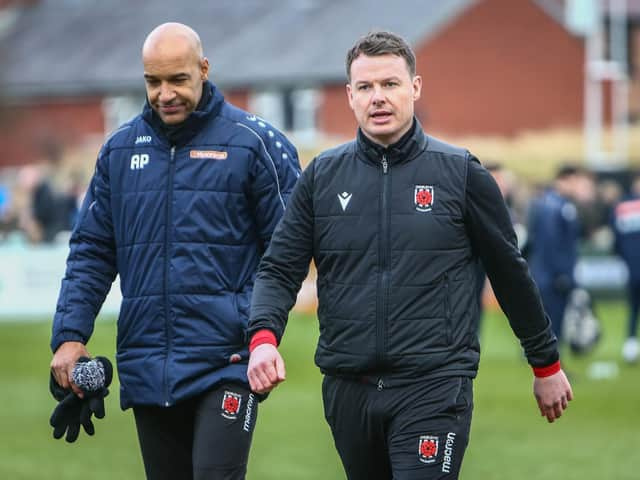 Chorley assistant manager Andy Preece, left, with boss Jamie Vermiglio (photo: Stefan Willoughby)
The Magpies welcome Championship outfit and former cup winners Derby County to Victory Park tomorrow lunchtime.
While it is certainly new territory for the club, one man in the Chorley camp has seen it all before.
Assistant boss Andy Preece is a veteran of more than 500 games as a professional and is arguably best known for forming a potent strikeforce partnership with 6ft 7in giant Kevin Francis at Stockport County.
Andy Preece and Jamie Vermiglio celebrate Chorley's win over Peterborough
And the pair both netted in one of the most memorable days in Preece's career when the Hatters upset Premier League Queens Park Rangers in the third round of the FA Cup in 1994 at Edgeley Park.
A Hoops line-up containing players such as Les Ferdinand, Ray Wilkins and Simon Barker were beaten 2-1 by County, who were then in League One.
After Francis had cancelled out Barker's early effort, Preece stole the headlines when he hit the late winner – a searing left-foot volley into the top corner.
Preece would even go as far as to suggest that the strike would have a huge bearing on the rest of his career – as it was not too long after that he earned a dream move to the Premier League with Crystal Palace.
And his experience is certainly food for thought for his Magpies players, who are once again able to turn the spotlight on themselves.
"The big memory for me in the FA Cup was the Stockport game against QPR," said Preece.
"Scoring a volley which turned out to be the winner – that was probably one of the best goals I ever scored.
"I would say that goal set me up for getting a move to the Premier League with Crystal Palace.
"That day was so special. The only shame is the lack of crowds at the moment because that Stockport game – the atmosphere. I remember everyone running on the pitch at the end of the game and myself and Kevin Francis getting carried off the pitch.
"It was just an amazing feeling and the only shame for our lads is they haven't had that feeling in the two previous games against Wigan and Peterborough.
"But I love the FA Cup and always have done.
"As you can see it's not lost any of its meaning, especially for non-league players.
"It's huge for them and what we have done so far has been amazing and they are such brilliant memories."
One of the key factors of Chorley's great cup run is the partnership being forged in attack between Harry Cardwell and Connor Hall.
Both scored in the first-round win over Wigan Athletic while Hall also notched against Peterborough United in the next round at London Road.
While Cardwell may have missed a penalty in that game and also hit the post, it is fair to suggest that he was the Magpies' star performer on the day and caused Posh's defence a torrid time.
Preece knows only too well what it feels like to be part of a partnership which is considered to be main asset of a team.
He and Francis, who is now a police officer in Canada after emigrating, played together for three years at County from 1991 to 1994 before Preece's transfer to Palace.
During that period, the current Magpies assistant boss notched 42 goals in 97 appearances for the Hattters, while Francis bagged 88 goals in 152 appearances for County before departing for Birmingham City in 1995.
"He was a big lad was Kev," said Preece. "I wasn't too small myself at 6ft 2ins but he used to take the big lads and leave me with the little one so it was great.
"He's a mountie in Canada now and I haven't seen him since when we played together for Mike Flynn's testimonial at Stockport a few years.
"But we had a great partnership and I just loved playing with Kev."
While Francis could be described as his perfect partner on the pitch, off the field of play Preece has certainly struck up a special relationship with Chorley boss Jamie Vermiglio.
They have been by each other's side since Vermiglio took over the managerial reins at Victory Park from Matt Jansen in the summer of 2018.
The pair actually have a long history with 53-year-old Preece signing Vermiglio (38) as a player many years ago when he was the manager of Northwich Victoria.
"I had been chasing Jamie for years," said Preece. "I first watched him when he was at Scarborough when I was manager of Worcester City.
"I thought what a player he is. He's a Football League player and I followed him.
"He went to Telford United and I couldn't get him, but I finally got him when I went to Northwich.
"He was a great player for me. An absolute leader - like he is now.
"You could see that in him then that he was destined to become a manager."
Vermiglio only stayed with the Vics a year before being enticed back to Chorley.
Preece admits that decision to leave Wincham Park and head to Victory Park caused a great deal of consternation between the duo.
"We had a little bit of a falling out over it. We didn't speak for a little while.
"But Northwich played Chorley and I went over to him shook his hand. Since then we've had a great relationship and always kept in touch."
When Vermiglio was handed the keys to the manager's office at Victory Park, he immediately put a call into Preece asking if he fancied becoming part of his coaching set-up.
Having been a manager of several clubs, the ex-Wrexham and Blackpool forward thought long and hard about becoming a No.2.
In the end he accepted Vermiglio's offer and it is a role he is thoroughly enjoying,
His first campaign at the club saw the team win promotion to the National League and while last season's relegation in the Covid-19 affected campaign was a major blow, the signs are that good times are back.
"I have been lucky enough to get to the second round of the FA Cup with both Northwich Victoria and Worcester as a manager, but never the third round," Preece said.
"So it's great to get to this stage and to get Derby County, it's a great feeling."