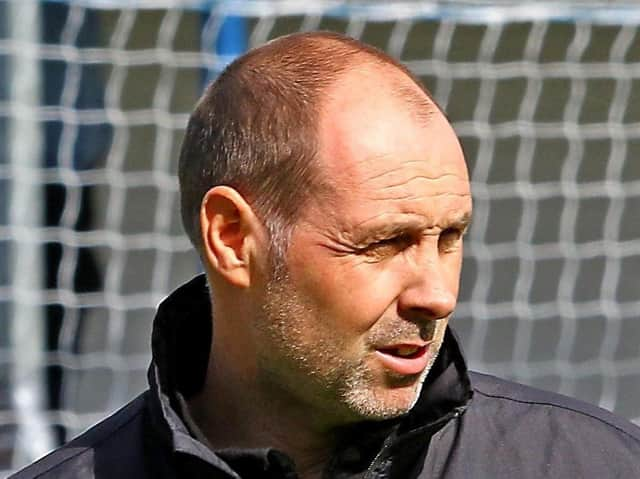 Phil Brown
The head of education at Preston North End's Academy shocked the club when handing in his resignation on Monday, after less than a year in charge at Shawbridge.
Brown, who is also the head of football at Myerscough College, admits that he had time to reflect on his commitments during the pandemic, which ultimately led to this conclusion.
"It was a difficult decision, but one made for the right reasons. There were no issues, no fall out. Clitheroe is a good club with good people attached to it.
"Like many, the current situation has made me reflect on my current commitments and although I really enjoyed managing Clitheroe FC last season, I've made the decision not to continue."
Brown is hoping to get back on the ladder soon and recently revealed his desire to work as high as he possibly can in the game after guiding the Blues back towards the right end of the BetVictor NPL North North West Division in his 30 games at the helm.
Having assembled a squad from scratch when succeeding Lee Ashforth in the summer, Brown had restored the feel-good factor in the Ribble Valley.
Brown, who has previously had a spell as caretaker boss at Stockport County in the National League North, said that his ambition is no different to that of a player.
He said: "I'm not getting any younger, but I want to manage as high as I can.
"I'm no different to any player. When I was assistant manager at Stockport County a few years ago they were in the National League North.
"They're a massive club and it shouldn't have been at that level. I had 16 months there and I really enjoyed my time working at a club that size and at that level.
"It was something I really thrived on. I was caretaker manager for the last three games and there were 3,000 on when we beat Harrogate Town 2-1 at home on the final day. That really gave me a good feeling about it."
He added: "When we took Lancaster City up into the Premier Division it was good to pit your wits against other managers at a different level and watch your team play at a higher level.
"I've managed at this level that we're currently at and I've coached at the level below. I want to be involved as high as I possibly can, though I don't think that I've got any God-given right to do that.
"I'm no different to any player, the vast majority say their ambition is to play as high as they possibly can.
"I've worked in a number of roles, I've enjoyed every single one of them, and just because I'm a manager now doesn't mean that I wouldn't be an assistant or a coach somewhere.
"It wouldn't be right if I didn't have my own ambition because that then drives me to be the best I possibly can."
Brown, who steered the Blues to 10 league wins on the bounce during the 2019/20 campaign, is currently working towards gaining his coaching badges.
And those qualifications may open the doors up to even more opportunities.
"I'm currently working towards my A-Licence. I'm doing that with the Irish FA in Cork.
"I was meant to go back in June to finish it, but with the coronavirus it's a bit of an issue. I did six days last year and I've got another five days to do.
"It will probably get deferred until everything is up and running. Stephen Elliott, who used to play for Preston and Wolves, is on it and there are one or two other pros from the Football League.
"It's a mixed bag. I was lucky enough to get on it and I'm enjoying it."
Brown, meanwhile, lavished praise on those working behind the scenes at the club and the supporters who turned out in their hundreds every week.
He finished: "I've really enjoyed it. It's been my first time really getting close to Clitheroe.
"I've been there a few times with other teams, but I never really knew what was behind the scenes.
"I've really enjoyed my time there and it's a good club, the people behind the scenes are good people, everybody I've met from the volunteers, groundsman, fans have been first class.
"The way they've supported us is greatly appreciated."