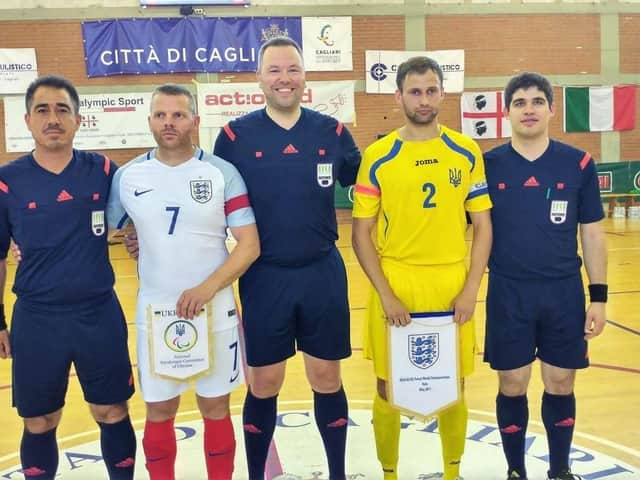 England captain Steve Daley lines up alongside opposing Ukraine captain ahead of the World Cup Futsal final
Bright eyed and bushy tailed, Steve Daley was eager to make a significant impression on his first foray abroad as an international futsal player.
Aged just 19, the Prestonian had been called up by England to take part in the 1995 European Championships, in Barcelona, Spain.
A form of five-a-side football, futsal was a game played the world over, predominantly on the continent and in South America.
Technical and tactical, the sport uses a smaller ball, hockey-style nets and the ball can go in and out of play.
It was certainly in its infancy within the UK more than quarter of a century ago when Daley first tried his hand – or foot to be more precise – at the game.
Nevertheless he headed to Catalonia all those years ago with high hopes for his country.
A fine exponent of the traditional indoor five-a-side game played in Britain – where the nets are smaller, the ball is bigger and players can use the walls – Daley was sure it would not take himself and his England team-mates long to adapt to the different style required for futsal.
However, he was in for a rude awakening in the Euros as in the very first game, the Three Lions were blitzed 8-0 by the host nation Spain, who produced a futsal masterclass.
Beaten and deflated, but certainly not unbowed, Daley and his team-mates knew they were starting right on the bottom rung of the futsal ladder and a lot of work was needed if they were ever going to be able to compete with the best nations.
Fast forward 25 years and Daley's quest to make England a futsal superpower is complete.
At the age of 43, he has taken the decision to retire from playing – his final appearance in England colours was the World Cup final in December.
Unfortunately, Daley was unable to bow out in the most glorious of fashions as the Three Lions were beaten 4-2 by Ukraine, in Turkey.
But considering where England had started out when Daley first began playing futsal, he feels proud to have helped his country rise to one of the best in the world.
Indeed, it is the second time Daley has played in a World cup final – two years earlier they lost once more to Ukraine 2-0, this time in Sardinia, Italy.
"I remember when we first started playing, we all thought we were good five-a-side players.
"Obviously, we thought we would be really good technically at futsal.
"That is until we went to Barcelona and got blown off the pitch in our first game by Spain.
"Technically they were far better. We had been used to playing five-a-side in this country where you could play off the wall.
"The ball at futsal is smaller so you have to be skilful.
"We were put right in our place in that game against Spain and it highlighted to us that technically we actually weren't that good.
"As English players, we were physical but futsal does foul counts – it's a bit like basketball in that respect – so we couldn't really get near the Spanish players.
"We ended up getting spanked 8-0 and to be fair, it probably could have been a lot more.
"It made us realise that we were miles off being any good at futsal."
In the 1990s, other countries had been playing the sport for years and indeed boasted their own professional leagues.
And as Daley explained, the UK did not even have its own futsal league.
If they headed into battle back in 1995 with a certain naivety, they are certainly a lot more streetwise these days.
Over his 25 years as England's longest-serving captain, Daley has won 143 caps, won bronze medals at the Euros culminating in two successive final appearances at the World Cup.
"My last game was the World Cup final so I think we have managed to bridge the gap," said Daley, who works for Preston Council where he is the deputy head of parks, streets and leisure.
"We are the only England team to get to back-to-back World Cup finals – both times we lost to Ukraine.
"Bearing in mind they are the World and European champions and are full-time athletes, we are amateurs.
"Futsal is still a minority sport in this country so when we are beating Russia, Spain, Argentina – some well established futsal nations – it's agreat achievement.
"It has taken us more than 20 years to get to a stage where we are good enough to get to a World Cup final.
"The final in 2017 was streamed live on Italian television.
"The one in Turkey at the end of last year was held at one of the country's national futsal stadiums so there was a good crowd watching."
Daley admits leading out his country for a World Cup final was the proudest moment of his life.
"Just imagine in 2017, playing in a World Cup final, captaining my country on such a big occasion, singing the national anthem – and then two years later doing the exact same thing again," said Daley, who was born in Belfast, Northern Ireland and moved to Preston at the age of 17.
"It's the biggest game you will ever play in and I managed to captain England in two finals.
"It's a shame that we could not win one of them but it's the proudest moment of my career.
"I think because it was only a couple of months ago and I have only just retired, I don't think it has really sunk in.
"You can underestimate what you did manage to achieve as a player.
"But I think it will hit home a bit more when the next major championships come around and I won't be involved."
Having ended his futsal career, Daley is hoping the next batch of players will be able to take England on to the next level and become world champions.
"It hasn't been an easy decision to retire – it's probably been on the cards for a couple of years," said Daley, who is married to Sonya and has two childrenCameron (17) and Deryn (13)
"I just felt like the time was right and it was time to hand over the baton.
"I am 43-year-olds and when you're on the same pitch as a 16-year-old that probably made my mind up for me.
"Liam Spinks is only 16 and he has just made his debut for England.
"But I am hoping the next group of players can take the game on even further in this country.
"We have laid down a very good foundation and hopefully we can go on and win the World Cup in the next few years."
With 143 caps to his name, Daley's place in the history of the sport is assured.
He was named the European futsal player of the year in 2001 and has captained his country for 22 years.
It is likely his record number of caps will stand the test of time, but will not be disappointed if somebody goes on to break it.
"I have been playing futsal for England for 25 years so it will take some breaking," he said.
"But you have got a lot of young players coming through and they will probably have to play into their late 30s to have a chance."
Daley believes football clubs in this country are missing a trick by not having their academy stars playing futsal on a regular basis. A fully qualified coach, the 43-year-old has begun delivering a futsal programme with Burnley FC's youngsters and believes other clubs should follow suit.
"Futsal is a great development tool and some clubs are starting to think that they should use it to help their youngsters' technical ability.
"You look at players from Portugal such as Ronaldo, Bruno Fernandez, how well Wolves are doing in the Premier League and the amount of Portuguese players they have, there has got to be a link between their technique and what they were doing as youngsters and that was playing futsal."