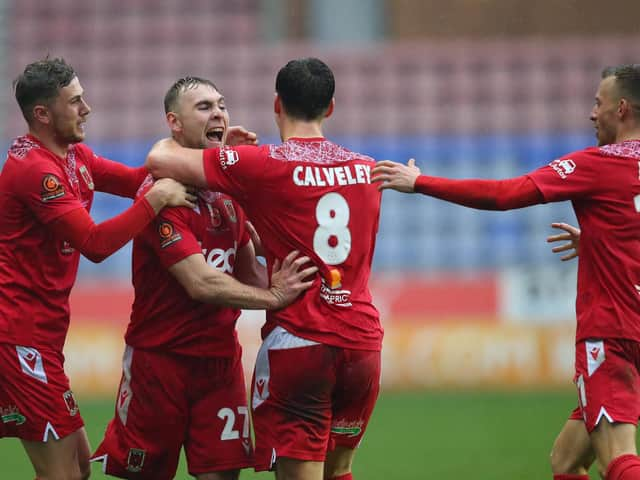 Chorley's Connor Hall, centre left, celebrates his winning goal against Wigan
Ecstatic, delirious, frenzied, elated – there can be many words to describe the emotions of Connor Hall in the immediate aftermath of his match-winning goal against Wigan Athletic.
The Chorley striker took full advantage of a slight mix-up in the Latics' defence to flick the ball past goalkeeper Owen Evans before steering the ball home from a tight angle.
The goal – which arrived two minutes into extra time – saw the Magpies go 3-2 ahead in the first round FA Cup tie at the DW Stadium.
Connor Hall goes around the keeper before slotting the ball into an empty net against Wigan
It was a lead they clung on to until the final whistle to complete a remarkable comeback victory – they trailed 2-0 at the interval – over the League One outfit, who won the competition as recently as 2013 when they defeated Manchester City 1-0 at Wembley Stadium.
The performance will go down in the annals of history as one of the club's greatest ever.
And for Hall, the magnitude of his strike manifested itself in a jig of unbridled joy and stamp of the feet as he wheeled away after watching the net bulge.
"It felt good," said Hall, who has played in the Football League for Bolton Wanderers and Accrington Stanley.
"I just remember seeing the goalkeeper coming out and I just thought if I could get my body between him, the ball and the defender then I might have a chance of scoring.
"I managed to get a flick on the ball and luckily enough it fell perfectly for me and then obviously all I had to do from there was hit the target.
"To get the winner in extra time, it was a great feeling."
Twenty-two-year-old Hall, who is on loan at Victory Park from his parent club Woking, rates his winner as possibly the greatest mom ent of his career to date.
"I have scored a few important goals in the National League when I was younger and went out on loan.
"But the goal at Wigan was on a different level. It was on a big stage like the DW Stadium.
"For us to be underdogs as well and to score the winner, I would definitely say it's my best moment so far."
The goal and victory was extra special for Hall as it came against the Latics, who are big rivals of one of his former clubs Bolton.
The Slough-born marksman spent three years with the Trotters after being released by the Blades.
He made four appearances before leaving the club this summer.
"It was so good for a club like ourselves to beat a club like Wigan, especially a club which is so local," said Hall.
"For me, I was at Bolton a few years and there's quite a bit of rivalry between the two clubs.
"I was getting a lot of pressure from my mates to beat them and I'm really glad we managed to do it.
"There were a few shocks, but arguably ours was the shock of the round especially in the manner we did it, coming from 2-0 down."
It had appeared that the League One side were heading for a routine win as goals from Joe Garner and Thomas James had opened up a two-goal cushion for the hosts just after the half-hour mark.
However, the turning point of the match arrived shortly before the interval when Wigan defender Adam Long was sent off for hauling down Hall's strike partner Harry Cardwell.
Galvanised by the man advantage, Jamie Vermiglio's men came roaring back in the second half and drew level courtesy of goals from Elliot Newby and Cardwell.
Hall's winning goal in extra-time sparked exuberant celebrations on the pitch and in the dressing room afterwards.
"The red card was a game changer really," Hall said.
"Even though they'd had a man sent off, we were still 2-0 down and everybody probably still expected us to lose.
"The manager at half-time just said go and express yourselves, try and get back in the game and they will tire.
"We had a great chance of beating them but the manager did not really put too much pressure on us because we had actually played quite well in the
first half. As soon as we got level, I felt it was just a matter of time before we got the winner."
Hall and his team-mates will be hoping to repeat their heroics today when they travel to London Road to take on Peterborough United live on BTSport. (5-30pm kick-off)
A place in the third round and a chance to be paired with a Premier League team is the prize on offer to the winners, but Posh will begin the match as overwhelming favourites.
Darren Ferguson's men are currently second in League One – a whopping 88 places ahead of the Magpies.
"Everybody is buzzing for the game," said Hall. "We are in decent form.
"We have got something out of our last four games .
"We know Peterborough are going to be good but for me personally, I want to go up against these kind of players and compare myself.
"The manger and his assistant Andy Preece have been to watch them and hopefully we can find a way to exploit any weaknesses and get a result."