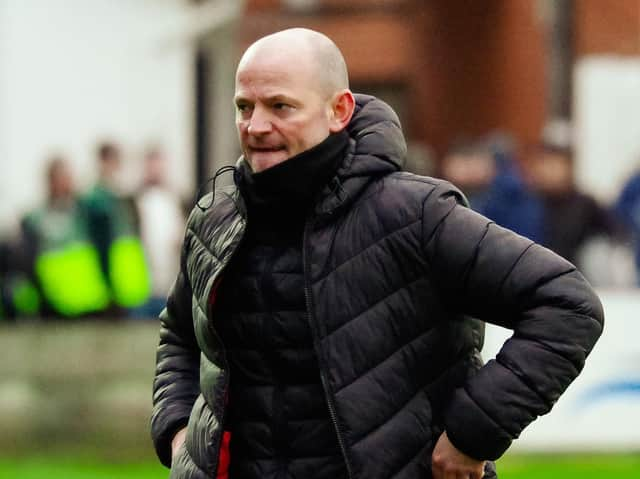 Brig boss Jamie Milligan (photo: Ruth Hornby)
Brig are set to resume their NPL Premier Division campaign on Boxing Day when they host Lancaster City at the Sir Tom Finney Stadium.
They did have the option of playing this weekend, with a home fixture against Hyde United scheduled, after the NPL Board gave their blessing for clubs to play if they could come to an agreement.
That followed the Government's announcement late last week which permitted fans to return to non-league grounds between steps three and six of the football pyramid.
However, Brig have decided to turn down that option due to financial reasons.
Milligan admits on purely football grounds, he would have loved to have played this weekend, but understands that those in charge of the club's finances have the final say.
The Brig boss is eager to get the season up and running though, as his men have struggled for positive results in what has been a truncated campaign so far.
Before the second national lockdown, Brig picked up just two wins from 10 games and last weekend they were compelled to travel to Witton Albion in the FA Trophy.
That ended in a 2-0 defeat and Milligan said the performance was typical of what has gone before.
Having kept faith with his squad, he has decided now is the time to start making changes.
He is hopeful of bringing in a number of new faces ahead of the visit of the Dolly Blues.
"We had the cup game last week and it was a game which we were looking to get through – we should have got through," he said. "We gave away two awful goals and that's really been the story for the past six, seven, eight games.
"So I will be looking to change the team. Some lads have had too many chances so they will be going.
"There can be no arguments.
"Nobody can come back to me because the performances and consistency just haven't been there.
"I know when I played, if I kept playing bad then I wouldn't be in the team so that's where we are.
"I am looking to bring in a couple of lads on loan and things just need freshening up to try to get us going again really."