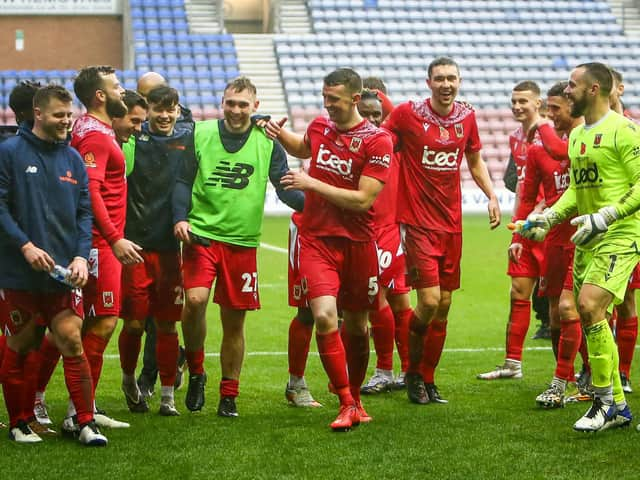 Chorley celebrate their 3-2 win over Wigan in the FA Cup (photos: Stefan Willoughby)
Well for Chorley boss Jamie Vermiglio his team's free date last weekend gave him the opportunity for a spot of DIY.
A headteacher during the day, the Magpies manager has spent much of the past week since his primary school Locking Stumps, in Warrington, broke up for the Christmas holidays at home building a shed.
As well as providing his family with a new storage space, building the shed was therapeutic for the father-of-two after a hectic period managing the Magpies.
Boss Jamie Vermiglio has been thrilled by his team's form
The break also gave Vermiglio the chance to reflect on a momentous few weeks which has seen the club move through to the third round of the FA Cup for their first time in their history,
They will next play Wayne Rooney's Derby County at Victory Park in early January - a mouthwatering tie they richly deserve after comeback victories over League One outfits Wigan Athletic and Peterborough United - both away from home.
While the famous FA Cup run has grabbed all the headlines, Vermiglio is no less thrilled by his team's form in the National League North.
After worryingly losing their opening four games, the Magpies have now gone seven games unbeaten in the league and are now only a couple of wins or so away from the play-offs.
"It's been a great period," said Vermiglio, whose men will face derby rivals AFC Fylde at Victory Park on Boxing Day.
"Never in a million years would you dream of doing what we have done so far this season.
"I say so far because we will be trying our very best to get through to the next round when we play Derby County.
"When we were building the squad at the start of the season, you would never dream of doing things like this.
"You never think about getting to the third round of the FA Cup. You think about the league and targeting the play-offs.
"The lads have loved every minute of the cup run and all credit to them.
"The good thing is the lads have managed to transfer their cup form into the league.
"We are not getting carried away with it, but when we were losing those first four games, we actually felt that we could have been winning those games.
"I think now we are just getting that little bit more of the rub of the green. We are getting a penalty here and there.
"We got a penalty last minute against Alfreton in our last league game. That got us a point and saved our blushes.
"It does carry that little bit of momentum when you're playing in the FA Cup and you win.You can take that into the league.
"It builds confidence and confidence is quite high at the moment."
One factor that Vermiglio believes has also played a part in the fine run is that his young team are beginning to gel and buy into the Chorley way of doing things.
Much has been made of the changing of the guard which saw a number of long servants shipped out and replaced by younger and fresher faces.
"Without doubt the players are gelling and getting a better understanding," said Vermiglio.
"We changed the system and we've been switching between two or three systems and the players are beginning to get used to that.
"They are getting used to each other and getting used to the expectations of being at Chorley.
"All in all it does feel like things are coming together but we know we are going to have some setbacks along the way and we're not getting carried away."
Despite staying grounded, Vermiglio is keen that his men continue to look upwards.
After being rock bottom after the first few weeks of the season, they now have genuine play-off aspirations.
"We have always been looking up," he said.
"It would be foolish to look down, we need to be looking up.
"We have aspirations to be in the play-offs.
"I have always believed in it from the start and I don't know if the players we recruited believed in it in all honesty at the beginning when results were not going our way.
"But we knew there was a win just around the corner in the league especially as we had beaten both Gateshead and York in the cup.
"The lads have taken confidence from the FA Cup and they now have a lot more belief about themselves."
Vermiglio gave his players last weekend off ahead of the busy Christmas programme.
After playing Fylde on Boxing Day, the Magpies then visit Chester on Monday before facing the Coasters again the following Saturday at Mill Farm.
The manager is hopeful of bringing in some further reinforcements to bolster his squad and is in negotiations with Woking about extending striker Connor Hall's stay at the club.
The former Bolton Wanderers ace has been a revelation since arriving at Victory Park for a second spell on loan, scoring in both cups win over Wigan and Peterborough.
"He's a goalscorer isn't he?" said Vermiglio. "He has earned his money already from the goals he's scored in the FA Cup.
"We are talking to Woking and hoping to make his stay a bit more long term."