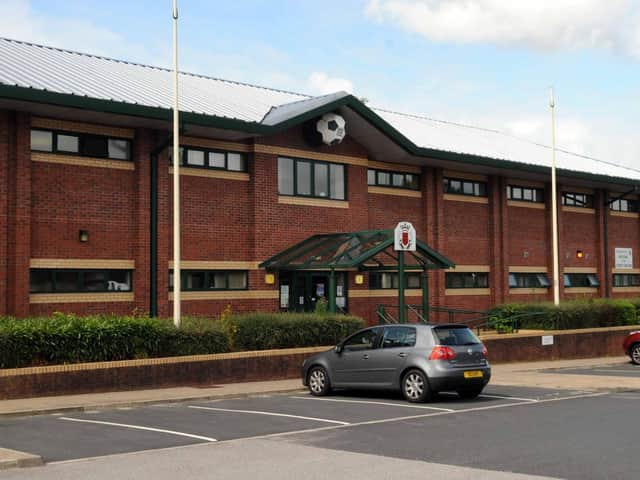 Lancashire FA headquarters in Leyland
The suspension, which will prevent all training and matches until January 2021 at the earliest, affects eight areas within the county across Pendle, Burnley, Hyndburn, Rossendale, Blackburn with Darwen, Ribble Valley, Preston and South Ribble.
Questions have been raised by coaches, players and parents alike seeking further clarification on the decision, that came in to force on Friday evening after Lancashire FA held 'long discussions' and after professional recommendations with Public Health for Lancashire, Public Health for Blackburn and Darwen, Public Health England and the Local Resilience Forum in Lancashire.
Shaun Dewhust on Twitter asked: "So... children, teenagers, students and adults are all allowed to go to school, college and work. They are also allowed to go to packed supermarkets and shops. BUT they can't play football!! PLEASE TELL US WHY?"
Former Blackpool FC player and Gazette columnist Ben Burgess said: "It really does amaze me how these people rise to power.
"A complete lack of awareness and understanding of grassroots football. Now more than ever boys and girls need an outlet, not to mention the social aspect of being around friends."
Supporter of grass roots sport in the community Warren Barlow said: "I cannot agree with this decision.
"At a time when we have so many people looking for positives in a really difficult period, the return of the game, assurances from government that no local authority would do their own thing, this is so wrong."
Reactions to the news in the areas affected have been overwhelmingly unfavorable to the LFA's conclusions but also critical of their timing in relation to informing teams, who were forced to cancel weekend fixtures at late notice.
Andy Leigh said the timing of the statement, on Friday evening had caused disruption for many grass roots volunteers ,who had given up their time to prepare pitches.
He said: "It's not just why it was done, it's when it was done.
"All pitches prepared and marked out, meetings had and fixture arranging / admin done, kids excited because they are back to football. Then...... social media post on Friday night stopping it all! ....... Friday night!
"You've known we are in a pandemic, coming out of a lockdown for some time. That is very poor indeed. Should be ashamed."
Daz Wildman added: "Can you confirm in those areas the following grassroots sports are also suspended hockey, netball, rugby will gyms be closed in those areas, including council run leisure centres? "
Rebecca Burton responding to Lancashire FA's second statement on Sunday evening said: "If they are so concerned about children who are asymptotic spreading it, then why are they in school?
"When you consider how many kids out of one school year play football, stopping it will make no difference to the spread at all.
"I can see why matches were stopped, but not training. I would like to see the scientific evidence behind this decision."
Dave Redding called the decision 'farcical', he added: "Absolutely nothing has been explained. Six hours prior, LFA post that indoor football is allowed.
"Is that because LFA had a tournament arranged on Saturday? Rugby, Hockey, Netball, Gyms all allowed. We have freedom of information, lets see the risk assessments that have been carried out.
"Or shall we do some risk assessments on how many people are being affected mentally. Current figures from GOV website shows South Ribble is well below Chorley and they are not suspended. How's that work. Absolute Joke. Shame on you LFA."
Professor of cardiovascular nursing Ian Jones said consideration should be given to the nature of the information the LFA was acting upon, he said: "I'm not doubting that the timing is poor but I would never question the motives of those making the decisions.
"They're football people and they're having to make health decisions. We are all gutted but they've not done this lightly."