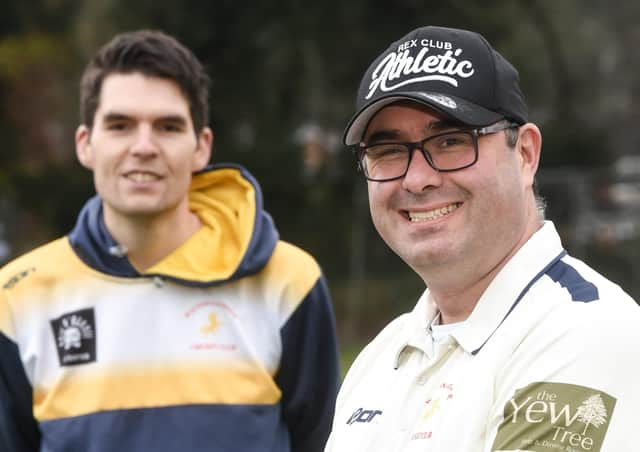 Dave Maguire and Neil Harvey (R) from Up the Dale podcast
What began as a light-hearted fun venture to while away the long, dark days of the first national lockdown has snowballed into quite the phenomenon.
It was back in March earlier this year when prime minister Boris Johnson ordered the population of the United Kingdom indoors to deal with the Covid-19 pandemic.
With people only allowed out of their homes for the bare necessities and for one hour of exercise per day, sport – at all levels from elite down to the grassroots – was placed into cold storage indefinitely.
Dave Maguire and Neil Harvey (R) from Up the Dale podcast
For the members of close-knit cricket club Walton-le-Dale, the lockdown was a bitter pill to swallow.
They had been busy preparing for the forthcoming season which was just a month away from starting before the country was plunged into lockdown.
Unable to play, train or even meet up in the pavilion, the playing staff, officials and supporters maintained their close links via an online podcast.
"Up The Dale" was the brainchild of Walton-le-Dale's second-team captain Neil Harvey – a former seam bowler – and leg spinner David Maguire.
Broadcast on YouTube and Facebook, the podcast initially saw the duo discuss a variety of topics concerning the club and the game in general.
It soon began to attract an avid audience and it was then that they decided to branch out at little.
Rather than just hearing the sound of their own voices all the time with guest appearances from other club members, the duo set upon the idea of inviting prominent figures from the wider cricketing world on to their show.
With a touch of forwardness and a little cheekiness, the pair soon hit the jackpot when Lancashire stalwart Steven Croft agreed to be their first special guest.
With Harvey as the anchorman and Maguire providing the Paxman-esque style interview technique, the podcast with the Red Rose all-rounder – who has played 180 first class matches for the county – proved to be a huge hit.
Since then the show has gone from strength to strength.
Local star and former Lancashire ace Luis Reece, who now plays for Derbyshire, was next to make an appearance talking candidly about his career so far.
Then it was the turn of renowned cricket broadcaster and Test Match Special summariser Dan Norcross to go under the gaze of Harvey and Maguire's spotlight.
Most recently, the pair have been able to enjoy the company of former England and Kent bowler Martin Saggers, who is now a respected umpire on the county and international circuit.
Harvey admits the rise and prominence of the show has taken both himself and Maguire by surprise, but as far as they are concerned this is just the beginning and they have targeted even bigger and more high-profile stars to appear on their show.
"Myself and my co-host Dave Maguire had originally spoken about doing a podcast pre-pandemic," said Harvey.
"It was just going to be about Walton-le-Dale and the idea had sort of been inspired by a club down south called Sanderstead.
"When the pandemic hit, we sort of put our heads together and said why don't we start it now?
"There was still plenty of cricket content which we could talk about and the lockdown gave it the added emphasis that as cricketers – and certainly as friends and clubmates – we just weren't seeing each other.
"So it was more done initially as a way of keeping the club together and bringing some entertainment to the lads at a time when we ordinarily we would be getting ready to ramp up our preparations for the forthcoming season.
"The first four or five episodes was just general club news, league news and information and other cricket news such as whether the summer would see any kind of county or international cricket.
"It soon became clear that we could start introducing guests."
With neither of them having a contacts book overflowing with the numbers of famous names, the duo had to think outside of the box to secure guests.
Croft's appearance was as a result of him being the club's guest of honour at a presentation evening, while Reece was somebody who both Harvey and Maguire had got to know when they were both players at Vernon Carus CC many years ago.
"We had the local link with both Steven and Luis," said Harvey.
"Steven had been a guest of the club and we asked him if he fancied coming on the podcast.
"Luis is someone myself and Dave had played with during his very early years at Vernons – his dad was actually my captain there.
"So I had known the Reeces in general for a good number of years.
"But going on from there, the best way I can put it in terms of getting the guests that we have done is that we have just been a little bit cheeky I suppose.
"After getting two players on in both Steven and Luis, we agreed that we would like to showcase different facets of the game and get other characters – not just players, although we would obviously welcome other pro players.
"So we looked at identifying different roles in cricket such as coach, commentator, umpire. Getting Dan Norcross on was an interesting one – because of his name he had a link to Norcross Cricket Club in Blackpool.
"I knew he used to interact with the club and I know a couple of lads from there and they had told me that he had once come to their presentation evening.
" So I felt quite comfortable approaching him on social media and he was absolutely great.
"He agreed to come on and was a great guest.
"The Martin Saggers one is another weird one in the sense that I was a friend of his on Facebook.
"I can't remember how or why I ever befriended him on Facebook but once again I just cheekily dropped him a line on messenger.
"Just like Dan Norcross, he was absolutely brilliant. He said he would be delighted to come on."
Having already secured some famous people to come on their show in such a relative short space of time, Harvey admits that he is setting no limits for the future.
His dream guest would be ex-Lancashire and England cricketer David "Bumble" Lloyd, who is now a highly regarded and respected commentator.
And he has not ruled out asking someone like Ian Botham – arguably this country's greatest ever player.
"Realistically, I think Bumble is someone we could ask," he said. "That would be a good one and I know he's been on a few podcasts really.
"I think we talk about being cheeky, but sometimes we are not cheeky enough.
"There are probably times when we have held back from asking someone because you think you won't get a response.
"We have been quite surprised by the people who have said yes and their enthusiasm as well.
"So why wouldn't someone like Ian Botham say yes to us?"