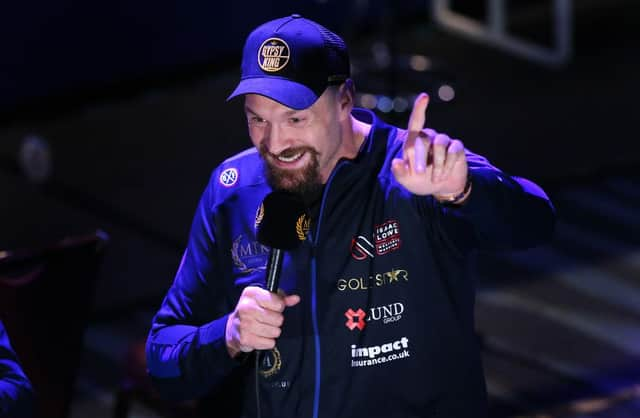 Tyson Fury has signed a two-fight deal to fight Anthony Joshua.
The British rivals have been locked in lengthy negotiations in recent months, and there was talk last week that the two fighters were unable to get the fight on, with Morecambe boxer Fury claiming he'd stopped training.
But both camps have now finally finalised terms for the blockbuster battle, with a date and venue to be confirmed.
Joshua's promoter Eddie Hearn told Sky Sports: "All parties have now put pen to paper and we will be working hard over the next few weeks to confirm the site and date for the biggest fight in boxing."
Tyson Fury beat Deontay Wilder at MGM Grand Garden Arena in Las Vegas, Nevada in February 2020.
Just last week, Fury claimed the fight negotiations were 'going nowhere' and he was focusing on drinking pints of lager rather than training.
He said: "I'm not training anymore. I'm not training no more. I've never stopped training since December 2017, and even after these world title fights, I trained the next day. I go running 10 miles, doing things. I'm in the gym sparring and messing around.
"I'm taking some time away from the game at the moment, because, like I say, I've been ready to fight since I beat Deontay Wilder last year. I've had no success in getting another fight, which is down to the Covid and a lot going on. At the moment I'm just concentrating on getting me 10 pints of Stella to 12 everyday."
"Everyone in this building knows more about this fight than I do. Apparently, it's done, it's signed. We got a date, a venue. News to me. I don't know jack. I don't know anything. As far as I'm concerned, I'm not even training anymore. I've stopped training. (Trainer) Sugar Hill (Steward) has gone home. He went home in November, end of November. (Assistant trainer) Andy Lee's gone home. I'm burnt out, ya know? I need a rest, mentally and physically and emotionally."
The super fight between Joshua and Fury looks set to be staged abroad, with the Middle East favourite to host the blockbuster.
Hearn added: "We'd like to get a site deal confirmed in the next month.
"The hard part is always getting everybody to put pen to paper. But this was a major effort from all parties to get this over the line. You had rival promoters, rival networks and rival fighters.
"I know how hard we've worked hard these last couple of months and I just feel that this fight is so big it's not a difficult sell. We've already had approaches from eight or nine sites. The offers have come from multiple countries in the Middle East, from Asia, Eastern Europe and America.
"This is the biggest fight in boxing and one of the biggest sporting events in the world," Hearn said. "It will be a major, major win for a country that wants to showcase itself."
The split for the fight is believed to be 50-50, with a 60-40 split for the rematch in favour of the title holder.