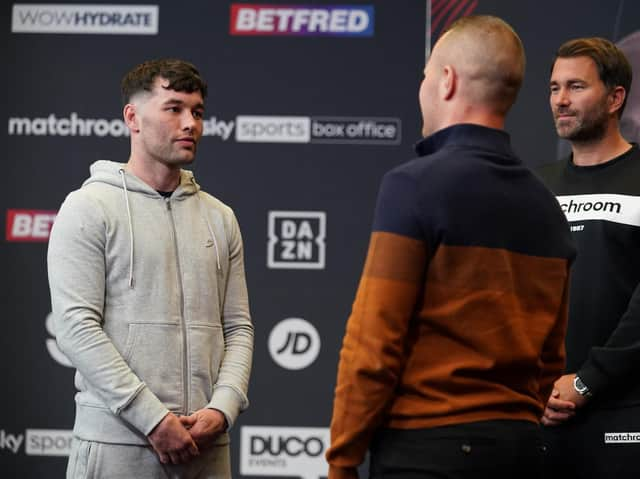 Scott Fitzgerald squares up to Gregory Trenel (photo: Matchroom boxing)
The Covid-19 pandemic has made everyone in the world take stock of their lives over the past year.
The devastating impact of the coronavirus crisis has touched virtually everybody around the globe.
If anything, the virus has taught people that nothing in life can be taken for granted – a realisation which has dawned on Preston boxer Scott Fitzgerald.
For while everybody has had to cope with the virus, Fitzgerald has also had his own personal issues to deal with.
It is well documented that the 29-year-old fighter – who won a Commonwealth Games gold medal as an amateur for England – has fought a long battle with drink and drug addictions in recent years.
His illness threatened to send his life out of control last year after he was arrested for a domestic-related issue.
He subsequently served time on remand and pleaded guilty to a charge of breach of the peace at Preston Magistrates in November. Now back on the straight and narrow, Fitzgerald admits he looks back on certain events of the past year with regret, but is keen to make a change for the better .
The fact that he has become a father in recent times has given him a different perspective on life.
And he hopes that new outlook will help him dedicate himself to what he undoubtedly does best – boxing.
There was a very real prospect that Fitzgerald could have thrown his career away last year.
The former Our Lady's High School pupil had put himself in a position to fight for the sport's top prizes.
Superb victories over domestic rivals Anthony Fowler and Ted Cheeseman in 2019 had seen the Larches and Savick ABC fighter become the British super-welterweight champion.
European and world title fights look destined to come his way and who knows, possible greatness beckoned?
Unfortunately, his boxing career took a backseat while he dealt with his personal issues and of course the pandemic has also played a part.
Having been forced to vacate his British title, which incidentally has been won back by Cheeseman, Fitzgerald will have to rebuild his career.
On Saturday evening he returns to the ring for the first time since beating Cheeseman in October 2019.
The 29-year-old takes on Frenchman Gregory Trenel on the undercard of the heavyweight contest between Dereck Chisora and Joseph Parker at the Manchester Arena.
A victory could provide a platform for possible rematches against Fowler and Cheeseman later this year.
"I do feel a sense of embarrassment about what happened last year," said Fitzgerald.
"I am determined to put things right.
"I did let myself down but it gave me time to reflect and it will help me to be a better person outside of the ring.
"I am a father now and I want to be the best father I can be for my children.
"Hopefully be a good role model for them.
"I have said this before at times in the past but I am over all my problems now.
"I suppose it's frightening to think what I have managed to achieve in my boxing career when you consider what I have been doing outside of the ring.
"I managed to become British champion which was always my dream as a young boy.
"At times I have been dedicated to the sport, but with all the things I have had going on in my life, I haven't really given myself the best chance of fulfilling my potential.
"But hopefully the best times of my career are still ahead."
While his life outside of the ring has been chaotic at times, he has certainly displayed the Midas touch inside it.
A former National ABA champion, his win over Fowler certainly surprised one or two observers.
But the quality of that fight means there will be plenty of people tuning in to watch his performance tonight.
"I think what it does is it gives me confidence," said Fitzgerald.
"The fact that I can take on guys like Fowler and Cheeseman and beat them shows what I am capable of.
"I was seen as the underdog against Fowler but I won that fight fair and square.
"I was completely focused and trained like I had never trained before for that fight and I think it showed.
"If I can show that same attitude and dedication for the rest of the career then I can definitely fulfil my potential.
"I think all through my career, I have always been seen as the underdog.
"When I won the Commonwealth Games gold medal, I don't think many people thought I would.
"I think that has helped me in my career and hopefully I can get back to where I was which would be against the odds I suppose considering what has happened over the past year."
Certainly possible rematches against either Fowler or Cheeseman would whet his appetite.
"I probably celebrated beating Fowler a bit too much afterwards and that definitely had an effect on my performance against Cheeseman," said Fitzgerald.
"I was still in the midst of my problems back then and a lot of my training camp for that fight was spent trying to make weight but I still managed to get the win.
"I would love to fight Fowler and Cheeseman again.
"After the last fights we had, I think these are the fights the fans would love to see.
"Fowler will want his revenge and he's had some decent wins since we fought.
Cheeseman has won the British title back and fair play to him.
"I thought it was a good performance and win for him when he beat James Metcalf.
"If a fight against me is something he would consider then that will be great.
"It will be a route back to where I want to get to."
Now into his 30th year, Fitzgerald knows there is no time to waste if he wants to get to the top.
Although he has to navigate his way through some tough bouts which have gone the distance, he still only has 14 professional fights on his record, and believes his best is still to come.
"I still feel like my best years are ahead of me," he said.
"In 2019 I became British champion and ideally it would have been great to have a couple of defences and then look towards European and world level.
"Obviously Covid has affected a lot of things but I see no reason why I can't one day fight for a world title."