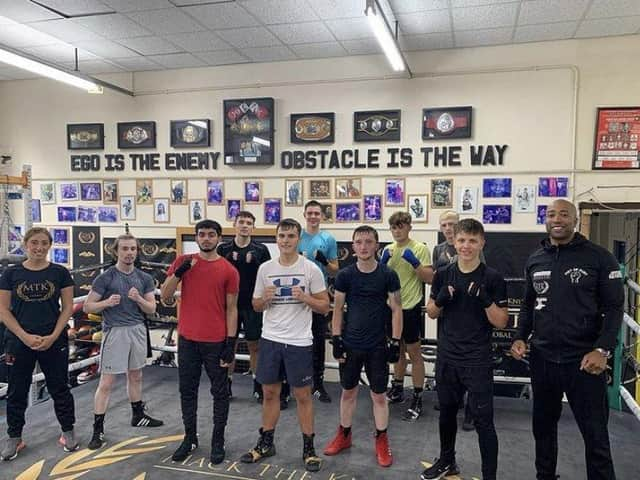 Michelle Nicholson,far left, and Johnney Roye, far right, with MTK Manchester academy students
Discovering the 'next big thing' in the sport of boxing would be the ultimate dream for MTK Manchester's newly-formed boxing academy.
But for trainer Michelle Nicholson, she would derive just as much pleasure from seeing all of her pupils leave the further education establishment as rounded individuals with their life chances enhanced.
Nicholson is part of the academy's coaching set-up which is headed-up by former world kickboxing champion and renowned trainer Johnney Roye.
Providing a full-time education programme for school leavers, the academy combines studying alongside a boxing apprenticeship for young adults who are keento pursue a career in the sport, whether that be as fighters, trainers or even promoters.
MTK Global – founded by former European middleweight champion Matthew Macklin – manages the fortunes of a huge number of boxers across the world, including high-profile names such as Carl Frampton and Billy Joe Saunders.
Preston's very own commonwealth Games champion Lisa Whiteside has also fought under its name in the past.
For those youngsters keen to pursue their dream of becoming boxers, MTK's academy would provide the perfect apprenticeship and route into the sport
Importantly though, the academy is keen to ensure that its pupils leave with qualifications in maths and English, as well as an NCFE extended Diploma in Sports and Physical Activity.
"The dream is to have someone to come through and reach the very top of the sport," said Nicholson.
"The opportunity for these boys and girls is there.
"They are in the right place to be noticed and to be taken on.
"We already have one student, who will be training with the professionals. But we have made it very clear to him that his schoolwork comes first.
"The priority is the qualifications and we are quite firm on that.
"We don't want them coming in, thinking they have made it and dropping out of their school work.
"The main goal is to make these youngsters employable. There has got to be something at the end of it for them because not everyone is going to make it as a pro boxer. What they will be studying for is what would we know as a BTEC qualification.
"They will all leave as qualified personal trainers or coaches.
"There will be other avenues that they can go down if they don't make it as boxers."
Despite its name which is a subsidiary of a global brand,the boxing school is very much situated in Preston, with its base at the old The Prestbytery, in Brownedge Road, in Lostock Hall.
Indeed Nicholson – who also works alongside several other coaches – is keen to promote the college's Preston roots and forge local links.
She would like to see the academy full of aspiring young boxers from the city and the surrounding areas.
"We had 18 sign up for the first year of the course," said Nicholson.
"We actually had 200 apply.
"This is why I am trying to push it more locally.
"In our first year, we didn't actually have anyone from Preston. It's been advertised on the MTK website but it's been going more further afield. Out of the 200 applications we had, most of them lived too far away.
"But I am hoping the next intake will be a bit better in terms of students applying from the local area.
"We want to help our local lads and lasses."
The launch of the academy coincided with the outbreak of the Covid-19 pandemic which has certainly provided the coaches with a difficulty that they weren't expecting.
"Without Covid the idea would be to give them experience of what a professional boxing show is like," she said. "We would have them travelling to different boxing shows and letting them see what goes on behind the scenes.
"Going forward that would be the plan.
"We would have education providers coming in to teach them their qualifications and we would be doing the boxing training."
Nicholson revealed that the course is not just open to promising boxers.
They are happy to take on beginners who may have never put on a pair of boxing gloves previously but have an interest in the sport.
"We think there is a big market for what we are doing," said Nicholson, whose lifelong interest in the sport was inspired by her father Michael Hodgetts, who used to be a boxer.
"How many kids do you know, especially at the moment with the pandemic, who are leaving school and don't know what to do next.
"They may not have got the qualifications which they wanted, but if they have that bit of interest in the sport then it could be for them.
"We are getting kids who are boxers and they see this as a great way to further their experience and skills.
"But we also have complete beginners, who have never boxed before in their lives and want to have a go."
Support us and become a subscriber today. Enjoy unlimited access to local news, the latest football stories and new puzzles every day. With a digital subscription, you can see fewer ads, enjoy faster load times, and get access to exclusive newsletters and content. Click here to subscribe.