Motorists warned of fines and licence points possible after a road crash - even if you weren't involved
Car insurance experts have collated a list of the fines motorists could receive if they do not follow the Highway Code in the aftermath of a crash
Watch more of our videos on Shots! 
and live on Freeview channel 276
Visit Shots! now
Being involved in a car accident is unpleasant for all involved, and keeping concentration whilst on the road is very important. However, accidents do happen - in fact according to Comparethearket there are nearly 350 accidents a day on Great Britain's roads.
The car insurance experts at Comparethemarket have pieced together a list of fines which motorists can receive following a crash. The list of rules applies to motorists or road users who are directly involved in the accident or even those who just witness it.
Keeping these rules in mind when finding yourself in and around an accident can be very important. If you don't, these are some of the fines and punishments you may be subject to.
Failing to follow police signal when approaching an accident
Penalty: £100 fine, 3 penalty points
When approaching an accident, you should always remain alert and avoid slowing down unnecessarily to get a look at the aftermath of the collision - a momentary lapse in focus could be enough to cause another incident or collision. Instead, focus on the road ahead, keep an eye out for debris or slow moving traffic, and always follow the police signals. Ignoring an officer's directions is an offence and you could be fined £100 or given three penalty points.
Failing to comply with traffic signs
Penalty: 3 penalty points
Traffic signs are there to keep us safe, so ignoring their instructions comes with severe consequences. Even if you've just watched an accident take place and are feeling a little panicked - or nosey - be sure to pay attention to any signs nearby or you could be given three penalty points, which will stay on your record for four years.
Failing to comply with traffic light signals
Penalty: 3 penalty points, £100 fine
Just as with traffic signs, there are no excuses for not complying with traffic light signals, even in the moments of panic after witnessing a collision. However, the penalty for this offence doesn't end at three penalty points, you could also be fined £100.
Failing to comply with double white lines
Penalty: 3 penalty points
Be sure to always comply with the road markings, such as double white lines, even if you're keen to make way for other road users to drive around the site of the collision. Double white lines where the line closest to you is broken mean you can overtake where it's safe and there's enough space to complete the manoeuvre, but if the line nearest to you is solid, don't cross or straddle it unless it's safe and you need to turn off onto a side road or premises.
You can only overtake a stationary vehicle, or a bike, horse, or road maintenance vehicle travelling at 10 mph or less if there are solid double white lines.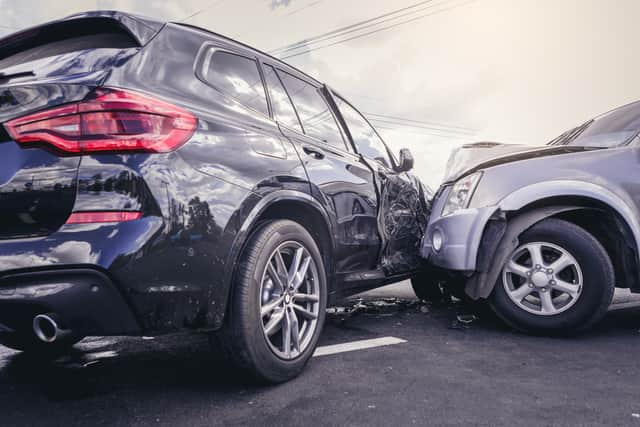 Stopping in a yellow box junction
If an accident happens and you're forced to overtake another car or change your road position for any reason, think carefully about whether it's safe to enter a box junction or better to wait. Box junctions are crossings with yellow hatched lines in them; you should wait until your exit road or lane is clear to drive into them, but you can move forward and wait there if you're turning right and your way is blocked by oncoming traffic or other cars waiting to turn right.
If the box is at a signalled roundabout, wait until you can cross all the way over without stopping before driving into the box.