5 rules motorists could unknowingly break this summer which could land drivers a £5000 fine and licence points
Here are five rules that drivers could unknowingly break this summer landing them with a huge fan, such as wearing flip flops and drinking water
Watch more of our videos on Shots! 
and live on Freeview channel 276
Visit Shots! now
After poor weather for most of the year, the temperatures are finally rising as we head into June. Over the summer, motorists could be unaware of the Highway Code laws they're breaking that carry driving fines of up to £5,000.
The UK experienced its hottest day of the year over the recent bank holiday weekend, with the Met Office confirming a temperature of 25.1C was recorded in Porthmadog, Wales on Monday, May 30.
That was the first time this year that the temperature has exceeded 25C in the UK. And whilst it's a long way off the 40C recorded last year, it's a clear sign that a period of warm weather is on the way.
But, with the weather improving, people may change their driving habits such as wearing flip flops, which carries a hefty fine and points on your licence.
Five fines drivers could face this summer
Wearing flip flops
With flip flops a popular choice of footwear in the summer, it's quite easy to keep them on when driving. And, whilst it's not illegal to wear flip flops while driving, it is not advised.
The lack of footwear backing means the sandals can slip off, get caught under the pedals which could prevent you from pressing the brakes in case of an emergency stop. This of course poses all types of risks and could see you handed nine penalty points a £5,000 fine.
Drinking water
It's perfectly legal to have a non-alcoholic drink when driving. However, you could be hit with a careless driving charge should it cause people to not be in safe control of the car. This could see drivers fined £100 on the spot and three points on their licence.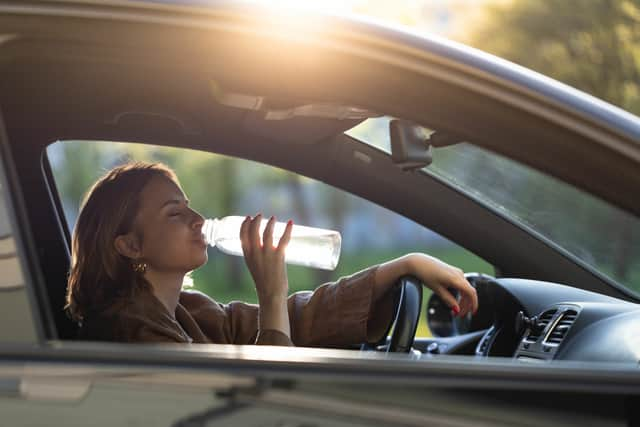 Driving with hay fever
Driving whilst suffering from hay fever could also land you in hot water as you could be unable to operate a vehicle due to eye irritation, coughing or sneezing which could result in £2,500 in fines.
Not keeping the car ventilated
Lack of air ventilation could see drivers charged under a highway rule which states vehicles must be kept well-ventilated "to avoid drowsiness". This means keeping a window open or the air-conditioning on.
Failure to properly use ventilation in their car could land drivers fines of up to £5,000 in most serious cases and three points on a licence.
Driving when there's sun glare
According to Rule 237 of the Highway Code, drivers need to slow down or pull over if they are "dazzled by bright sunlight". In an ATS Euromaster study, it was revealed 60% of drivers don't reduce their speed when there is sun glare.