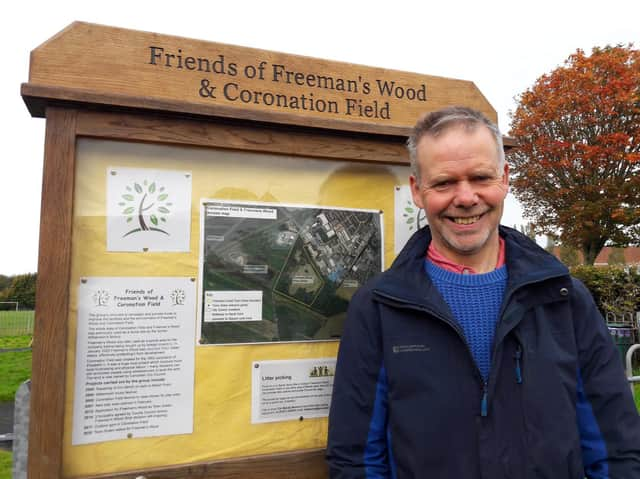 Campaigner Jon Barry at Freeman's Wood.
Although the deadline for appeal passed in the spring, the planning application remained "live" in the planning system until September 25, when Satnam, the agent for the landowner, withdrew the planning application.
Jon Barry, Chairman of Friends of Freeman's Wood and Coronation Field said: "The formal withdrawal of the planning application is the final milestone, at the end of a long journey, that started with the application of the Town Green Status in 2012.
A successful campaign led to Freeman's Wood being given Town Green status.
"Whilst much of the Friends' energy had focused on winning Town Green Status by providing evidence to the public inquiry held last autumn; at the same time, we were also objecting to the planning application that was submitted in November 2018.
"One particular meeting we held was attended by over 100 local people and as a result, the planning application received hundreds of objections.
"So I'd like to thank all the hundreds of people who have helped campaign to keep Freeman's Wood free from development, whether they took part in the Town Green Status process, or they wrote a letter of objection in response to the planning application.
"This has been a huge community effort and shows what can be achieved by local people working together to protect their important green spaces."
Before lockdown commenced, Friends of Freeman's Wood had planned a series of consultation events to find out what local people want to see happen with the woods.
Whilst it is still privately owned by overseas investors, the Town Green Status enables the public to use Freeman's Wood for "lawful sports and pastimes."
Lancaster City Coun and Friends' campaigner Mandy Bannon said: "Although the pandemic crisis means we've had to postpone our consultation events, we will resume them as soon as we can – hopefully in the spring.
"What has been clear during lockdown, is how important Freeman's Wood has been to local people and families wanting to visit this natural site on their doorstep. Even though we don't own the land, the Friends will continue to campaign to protect this important green space."