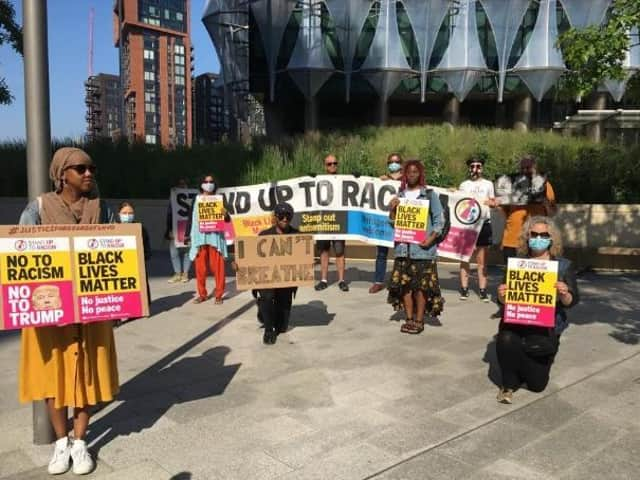 Protests have been called across the country in the wake of the death of George Floyd.
The event is part of a national day of action called by Stand Up to Racism to demand justice for George Floyd and a public inquiry in the UK into the disproportionate number of black and multi ethnic deaths during the Covid-19 Crisis.
It has been organised to show support for the protests and uprisings in US cities that are demanding "Black Lives Matter" .
George Floyd, 46, suffered a cardiac arrest while being restrained by Minneapolis police.
The BBC reported that an official post-mortem examination listed Mr Floyd's cause of death as "cardiopulmonary arrest complicating law enforcement subdual, restraint, and neck compression".
Police officer Derek Chauvin has been charged with third-degree murder and three other officers have been sacked.
Protests over his death have increased over the past week in more than 75 US cities.
It follows years of incidents of police brutality and discrimination in the US towards black men and boys in particular, many resulting in death.
President Donald Trump has threatened to call in the military, and overnight curfews are in place in many cities, with reports of police firing into crowds, resulting in the deaths of protesters and bystanders.
Stand Up To Racism said that police violence is the leading cause of death for young men in the US, citing a study by Rutgers University from August 2019.
It found that black men and boys face a 1 in 1,000 chance of being killed by police over the course of their life.
It's the highest risk for all ethnic groups—and means they are 2.5 times more likely to die than white people after contact with the police.
Separately, the Guardian reported last month that the death rate among British black Africans and British Pakistanis from coronavirus in English hospitals is more than 2.5 times that of the white population, according to analysis by the Institute of Fiscal Studies.
The vigil in Lancaster will assemble at 5.45 pm and hold a minute's silence at 6pm.
The event will be stewarded and Stand Up To Racism Lancaster and Morecambe said that it requires that distancing of at least two metres is strictly observed.
A spokeswoman said: "For this reason we would like you to email [email protected] if you will be attending so that we have an idea of numbers."