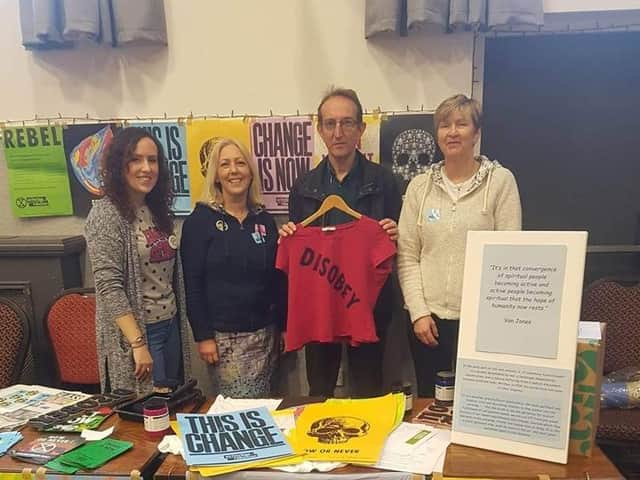 (From left) Kitty Speakman, Rachel Smith, Pete Hewitson, and Helen Lavendar.
The 2016 Paris Agreement, which saw 195 nations commit to pursuing efforts to limit the global temperature increase caused by carbon-fuelled climate change to 1.5°C, underlined the severity of what is arguably the biggest known threat to humanity.
Yet, to prevent warming beyond 1.5°C, we need to reduce global emissions by 7.6% every single year until 2030 according to the 2019 UN Environment Emissions Gap Report and, critically, there are few signs of such wholesale changes. In fact, carbon emissions are actually increasing, with the Climate Action Tracker (CAT) predicting that business-as-usual policies could see temperatures rise by as much as 4.1°C by 2100.
Such a scenario would be devastating.
In an effort to compel governmental action to reverse the climate crisis through nonviolent civil disobedience, the global environmental movement Extinction Rebellion (XR) was started in May 2018 and has since grown exponentially. Now boasting has 650 groups across 45 countries, one of the latest branches is XR Chorley, who have thrown their weight behind the movement to halt the next mass extinction and minimise the risk of social collapse.
"It's getting to the point where we need to do something and not enough is happening," said Kitty Speakman, 35, who started XR Chorley late last year. "In the last 12 months, I've learned so much from the green community but people are realising that things on a local level aren't enough and so XR are trying to make a much wider difference.
"There's quite a big green movement in Chorley," added Kitty, who took part in the Northern Rebellion protest on Deansgate in Manchester last year. "My own awareness of the climate crisis was gradual, but the likes of Greta Thunberg have really brought it to the fore and I wanted to learn more about it as a mum to a seven-year-old. I wanted to make sure he can have a decent future."
XR Chroley at the Heading for Extinction talk last month.
Spurred on by the atmosphere at the Northern Rebellion and the spirit of educating people, Kitty called the event an 'eye-opener' and is now looking to spread the word of XR Chorley and mobilise people as they look at what can be done at a community level with more and more people suffering from existential eco-anxiety in the face of the climate crisis.
"Before I got involved, I was getting quite stressed out and lots of people are experiencing eco-anxiety so these community groups are an absolute God-send," explained Kitty, who is from Leyland and who also volunteers for Lancashire Mind. "You can share your concerns but also to be with people who are trying to make a difference, which is really motivating and reassuring.
"The mental health perspective and coming together as part of the green community is massive," she added. "We're very non-judgemental with each other; being judgemental doesn't get us very far, so it's all about 'do what you can'. The big corporations and the government are the ones who are going to make the biggest difference and, unfortunately, none of them seem to be [making an effort].
"I get so frustrated - the evidence is staring us in the face," said Kitty, who lives in Buckshaw Village. "I've gotten more engaged in politics and a lot of that is driven by the climate crisis and when you look at what [the government] could be doing versus what they are doing, it just doesn't make any sense.
"They're driven by the economy rather than the future of the planet."